Unlock the Editor's Digest for free
Roula Khalaf, Editor of the FT, selects her favourite stories in this weekly newsletter.
All but one of the hospitals in the north of Gaza have stopped functioning, according to the UN, as Israel's war against Hamas deepens a humanitarian crisis in the Palestinian enclave.
Hospitals in Gaza have gradually been forced to stop operating over the past two weeks as Israeli forces advance deep into the enclave and severely restrict supplies of fuel, water and food to the besieged territory.
The health ministry in Gaza said on Tuesday that 170 Palestinians had been buried in a mass grave in the courtyard of the al-Shifa hospital, the biggest medical facility in Gaza, as a result of the "difficulty of burying them" elsewhere "because of the siege imposed on it from all sides".
A doctor at al-Ahli, the only hospital still working in the north of the besieged strip, said on Tuesday that surgery there on "all injuries up to the moderate level" was being done without anaesthesia as supplies were on the "verge of depletion".
"The pain experienced by the patients during the surgical interventions without anaesthesia is beyond what humanity on this earth can endure," Fadel Naim, a doctor from the hospital, wrote on social media platform X.
The UN's humanitarian arm said 32 patients — including three premature babies — had died at al-Shifa since Saturday as a result of the loss of power and "dire conditions" at the hospital. Mohamed Abu Silmeyeh, its director, warned on Saturday that medics were having to wrap babies in cellophane to keep them alive after incubators stopped working due to the lack of power.
Israel claims al-Shifa is a significant site for Hamas's operations because it sits on top of the armed group's underground infrastructure that the Israeli military intends to destroy, and has denied it is being besieged. Doctors at the Gaza City hospital have denied that it is a military base, and say thousands of patients, medical personnel and civilians are sheltering there.
The desperate situation in Gaza's hospitals has been a source of tension between Israel and its allies, with the US, France and other western nations increasingly pushing Israel to exercise restraint in operations near medical facilities.
US President Joe Biden said on Monday that the US had spoken to Israel about the topic and that hospitals "must be protected". He added: "My hope and expectation is that there will be less intrusive action relative to hospitals."
Israel bombarded Gaza and launched a ground invasion after Hamas militants from the coastal strip carried out the deadliest-ever attack on Israel last month, killing more than 1,200 people, according to Israeli officials.
Movement of Israeli forces since November 2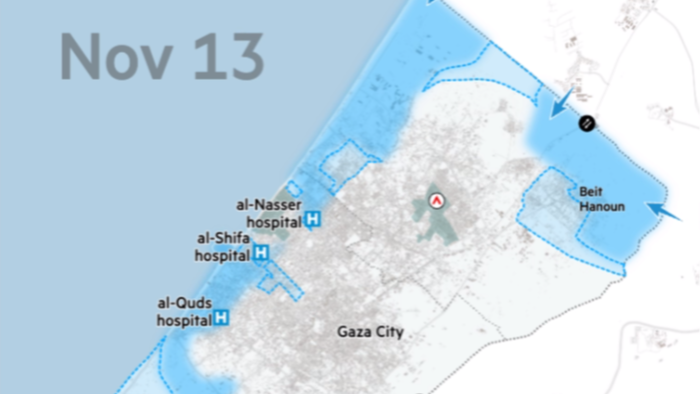 Israel's military said on Tuesday that an Israeli soldier held hostage in Gaza had died, after Hamas issued a video of her alive as well as images of what it said was her body after she had been killed in an Israeli air strike.
Israel's assault had killed more than 11,000 people, including more than 4,500 children and more than 3,000 women, in Gaza as of Sunday night, according to health officials in the enclave.
However the Gaza health ministry said it was having "significant difficulties" in compiling the data due to communications blackouts in the territory and it estimated that a further 3,000 citizens were missing or under the rubble of buildings destroyed in fighting.
The ministry on Monday said that there were more than 100 bodies at al-Shifa that were beginning to decompose and there was "the smell of corpses" everywhere. It added that 8,000 displaced people were sheltering at the hospital, but there was no food or fresh water.
OCHA said on Tuesday that 200,000 Gazans had fled the north of the enclave in the past 10 days, and that more than 1.5mn had been displaced since the start of the fighting.
Also on Tuesday, the US and UK announced sanctions against Hamas leaders and individuals and entities accused of financing the militant group. The Hamas figures targeted included Yahya Sinwar, its leader in Gaza, and Mohammed Deif, commander of its military wing.