Taylor Swift's friend group is standing by her amid her romance with Travis Kelce. The "Bad Blood" singer's longtime pal Gigi Hadid broke her silence about the pair by slamming rumors that claimed she didn't "agree" with how Taylor, 33, was "handling" her and Travis' relationship. 
Four days ago, celebrity gossip website Perez Hilton posted a report via Instagram claiming that Gigi, 28, wasn't happy with Taylor's new romance. In response, the runway queen commented, "I'm a couple days late to this tag … but didn't the press try this last week [with] Selena?" Let it be … we are all over the moon for our girl. Period." 
This is the first time that anyone in Taylor's inner circle has publicly addressed her relationship with the 34-year-old Kansas City Chiefs player. However, many of them have been photographed out and about with the award-winning music artist over the past several weeks — just as her and Travis' romance began heating up.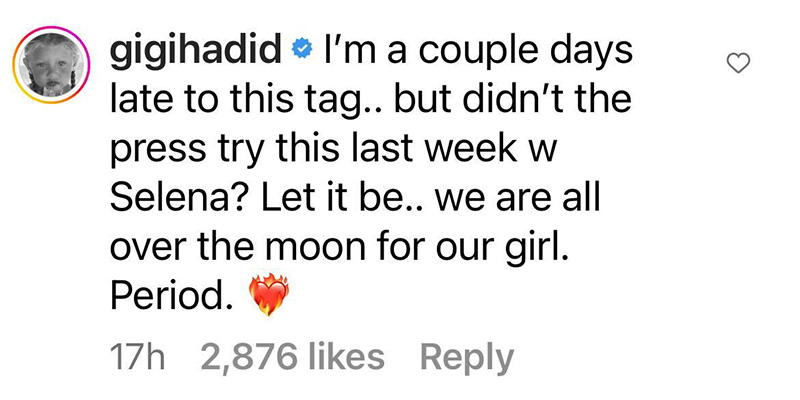 On November 11, social media was ablaze over the famous couple's reunion in Buenos Aires, where Taylor was performing the South American leg of her Eras Tour. During one of her concerts, the "Karma" songstress switched a lyric in her hit song from her Midnights album. Instead of singing, "Karma is the guy on the screen, coming straight home to me," she changed it to, "Karma is the guy on the Chiefs, coming straight home to me." 
Fans caught Travis' reaction after hearing Taylor's shout-out and tweeted clips of him blushing and cheering her on. Even her dad, Scott Kingsley Swift, was there to playfully bump Travis on the shoulder. 
Hollywood and the sports community's latest "it" couple have been at the center of attention since Taylor started attending some of Travis' football games in September. She also became acquainted with Travis' family. Though they're happy to see the couple thriving, Travis' brother, Jason Kelce, admitted that he was concerned about the overwhelming spotlight Travis is under. 
"On one hand, I'm happy for my brother that he seems to be in a relationship that he's excited about, that he is genuine about. But there's another end of it where it's like, 'Man, this is a lot,'" Jason, 36, told NBC Sports in October. "There's paparazzi talking about him fueling his car before the game today, and I'm like, 'Is that really necessary information to share?' This is another level of stardom that typically football players don't deal with."
The Philadelphia Eagles player insisted that he's "really, really happy" for Travis and "where he's at in his current situation with Taylor, but on the other hand, there's some, I think, alarms sometimes with how you know, over-in-pursuit people can be." Jason concluded, "Overall, [Travis] can deal with some of this. As long as it's not, you know, becoming a threat to his safety and things like that."