Kim Namjoon aka RM, the leader of BTS, recently conducted a live session for fans where he discussed various topics such as his fellow group members Jimin, V and Jungkook. During the session, which took place on Tuesday evening, RM expressed his desire to visit India. Additionally, Kim Namjoon hinted at the possibility of military service while conversing with BTS ARMY. Furthermore, he provided information about recent scars on his face.
RM mentioned that Switzerland or Iceland would be ideal countries for relaxation in response to a fan's inquiry. He also expressed enthusiasm about visiting India someday when addressing a comment from a desi ARMY member, stating, "Yeah, I want to visit India too someday. Why not?"
Later a fan asked Nam-joon about his driver's licence to which he said, "Not yet but after military service. 1.5 months left till the end of the year? Why is time going by so fast?"
RM discussed his facial scar near his eye, explaining, "Yeah these are all bruises. I think there might be a scar left. (Pointing around the area between nose and mouth) I have one scar here from when I was younger. My eye? I got about five stitches. I was filming something and the camera was too close so it slid against that area and so I had to stop filming and go right to the hospital but I'm fine now."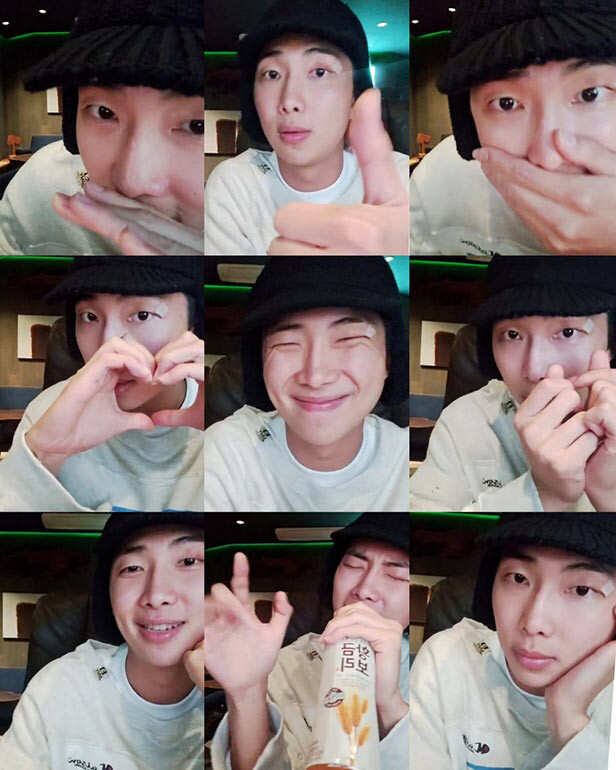 Further talking about V, Jimin and Jungkook, he said, "Have I had a meal with the members recently? No. But Jimin, Jungkook, Tae seem like they have been having fun these days though." He also expressed his admiration for Jungkook's album GOLDEN and highlighted his preferred tracks, specifically naming Standing Next To You and Hate You as his favourites.
In the live session, RM went above and beyond for ARMY by performing renditions of songs by other BTS members such as Seven (Explicit ver.), 3D, Slow Dancing and more. He also hinted at working on a project in the future but did not reveal any details at the time.
Meanwhile, on the work front, RM released his first solo album, Indigo, in December 2022.
See Also: BTS' Jungkook takes over Times Square with a surprise performance 
if( typeof skinningExist !== 'undefined' && skinningExist == true){
document.getElementById('socialsticky').style.display="none";
}
window.fbAsyncInit = function() {
FB.init({
appId : '301265226619562',
session : ", // don't refetch the session when PHP already has it
status : true, // check login status
cookie : true, // enable cookies to allow the server to access the session
xfbml : true, // parse XFBML
oauth: true
});
};
(function(d, s, id) {
var js, fjs = d.getElementsByTagName(s)[0];
if (d.getElementById(id)) return;
js = d.createElement(s); js.id = id;
js.src = "https://connect.facebook.net/en_US/all.js";
fjs.parentNode.insertBefore(js, fjs);
}(document, 'script', 'facebook-jssdk'));