The Archies will introduce new talents to the industry, such as Agastya Nanda, Amitabh Bachchan and Jaya Bachchan's grandson. The trailer, praised for its aesthetics and performances, particularly Agastya's, has received support from his family, with Big B expressing love and blessings for Agastya.
On Friday, Amitabh Bachchan took to X and tweeted, "Agastya my love blessings and more .. you carry the torch ably ahead."

T 4825 - Agastya my love blessings and more .. you carry the torch ably ahead ❤ï¸Ââ¤ï¸Ââ¤ï¸Â#AgastyaNanda #ZoyaAkhtar #YuvrajMenda #AngadDevSingh #KartikShah @kagtireema @tigerbabyfilms @ArchieComics @GraphicIndia #Dot #KhushiKapoor @MihirAhuja_ #SuhanaKhan @VedangRaina… pic.twitter.com/AKkLV0cYV4


— Amitabh Bachchan (@SrBachchan) November 10, 2023



Abhishek Bachchan previously shared his excitement for Agastya Nanda's debut in The Archies through a heartfelt Instagram post. He wrote, "This is just so cool! Can't wait to see it. Agastya, I'm so, so proud of you. From jumping on my bed as a kid playing the air guitar to jumping out of the screen with a real one….. the journey has just begun. Play hard!"
He further praised Zoya Akhtar and wrote, "Zo, you've knocked it out of the park again! And to the rest of the kids and the crew, all the very best. Very exciting. Welcome to the movies! #thearchies."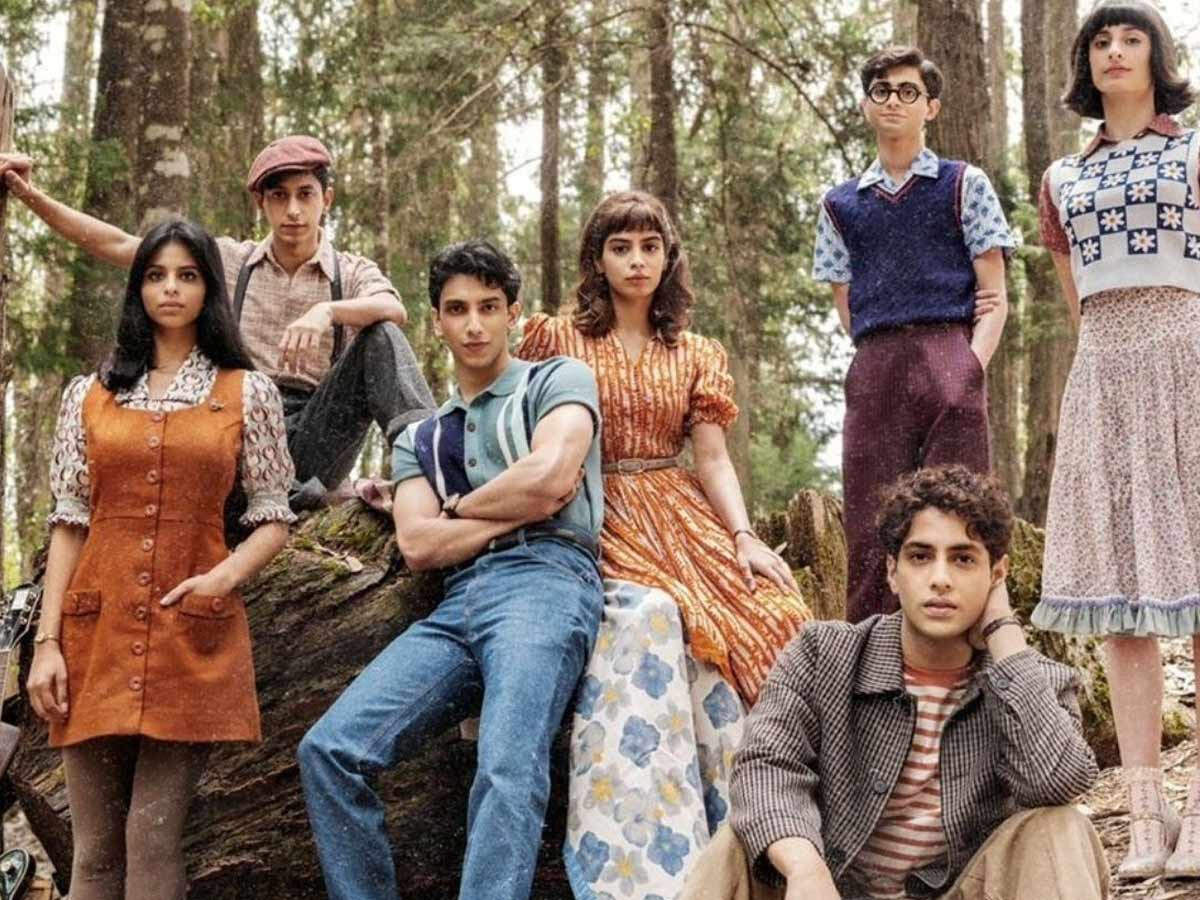 In Zoya Akhtar's teen comedy, The Archies, Agastya Nanda takes on the iconic role of Archie Andrews. The film delves into a love triangle with characters played by Suhana Khan and Khushi Kapoor in the fictional town of Riverdale. Set against the '60s era, the movie explores the bonds within a group of friends and is slated for an OTT release on December 7.
See Also: Shah Rukh Khan is all praises for the trailer of Zoya Akhtar's The Archies
if( typeof skinningExist !== 'undefined' && skinningExist == true){
document.getElementById('socialsticky').style.display="none";
}
window.fbAsyncInit = function() {
FB.init({
appId : '301265226619562',
session : '', // don't refetch the session when PHP already has it
status : true, // check login status
cookie : true, // enable cookies to allow the server to access the session
xfbml : true, // parse XFBML
oauth: true
});
};
(function(d, s, id) {
var js, fjs = d.getElementsByTagName(s)[0];
if (d.getElementById(id)) return;
js = d.createElement(s); js.id = id;
js.src = "https://connect.facebook.net/en_US/all.js";
fjs.parentNode.insertBefore(js, fjs);
}(document, 'script', 'facebook-jssdk'));