The year was 2002 and popular boyband NSYNC was on its last tour for the album Celebrity before going on an indefinite, heartbreaking hiatus. Meanwhile, the band's most unforgettable member Lance Bass was set to embark on a much more memorable journey to space—a journey that never happened.
This was before billionaires and celebrities frequented space for functions so it made quite the impression at the time (that is, if you exclude billionaire Dennis Tito, who went to space as a tourist in 2001). However, Bass never made it to the International Space Station, and for reasons that weren't entirely clear. It's been one of the biggest lingering mysteries from the strange era of the early 2000s: What went wrong to prevent the singer from reaching his orbital goals?
In a recent interview with Ars Technica, Bass finally revealed the surprisingly terrifying details of why he never got to fulfill his dream of going to space.
Bass was set to ride on board a Russian Soyuz spacecraft with two cosmonauts on a journey to the ISS, where he was going to spend around 10 days in orbit conducting research and other crew tasks. The plan was for the trip to be sponsored by unnamed Hollywood filmmakers, who were meant to cough up $20 million to pay for Bass's ride to space, according to the singer.
While completing four months of training at Russia's Star City, where the singer underwent pre-launch tests and even learned how to speak Russian, Bass said that he was threatened by Russian officials to give them the money. "There were even a couple of weekends that I would get kicked off the base in Russia,"
Bass said in the interview. "They would put a gun to my head and be like, 'Where's the money? Where's the money?'"
G/O Media may get a commission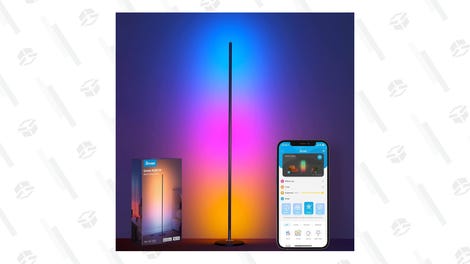 20% Off
Govee Smart Floor Lamp
Light it up
This smart lamp has 16 million different colors, can change as you like, works with Alexa, and can even sync with music to help build the perfect ambience.
Well, Bass didn't know where the money was, and the negotiations for funding ended in failure just days before the singer was scheduled to board the Soyuz spacecraft. "It was crushing," Bass is quoted as saying. "Especially spending that many hours doing something you're so passionate about. And I didn't really know what was happening because when I was training at [Russia's Star City] I didn't know what was happening in the outside world. There was a single phone line that no one ever called me on. There was no Internet. So it was just very disappointing."
Bass is apparently a huge space nerd. The singer said he wanted to be a rocket engineer but instead opted to be a singer in a boy band. Today, Bass is the narrator of an eight-part podcast series called The Last Sovietthat delves into the story of Sergei Krikalev, the cosmonaut who was in space when the Soviet Union dissolved in December 1991.
Bass hopes to still one day be able to go to space, he said.
More: Billionaires Sent to Space Weren't Expecting to Work So Hard on the ISS