Sony's Playstation VR 2 is the most convincing mid-range VR hardware I've ever used. I've always had a shaky history with entry level standalone headsets like the Meta Quest 2, and that experience has left me unwilling to invest in four-figure solutions like the Quest Pro. But the PSVR 2 strikes a perfect middle ground, adding just $150 to the Quest 2's current base price and, in exchange, eliminating or mitigating most VR pain points, including discomfort, blurry or low fidelity visuals, battery life, and light leakage.
In part, that's because the PSVR is a dedicated connected headset, much like HP's Reverb G2. If the headset is always going to be hooked up to more powerful hardware, then it doesn't need to keep a high-end processor on board, which would add to the weight. It also means it's going to have access to some beefy computing power.
And yet, it's that same connectivity that keeps the PSVR 2 from reaching its full potential. Being locked to a PS5 severely limits the headset's library, and will force you to play where you've permanently placed your console. If you live in a small New York apartment like me, that presents an issue when it comes to roomscale VR.
As it is, the PSVR 2 is a fine toy, but the hardware itself has the capability to be much more. A $550 price tag is appealing, and while the jury's still out on whether VR belongs outside of the rec room, the PSVR 2 is the first headset I've used that seems capable of fulfilling that lofty ambition at a sub $1000 price.
The clear answer here is to follow in the footsteps of God of War or Marvel's Spider-Man: Bite the bullet, and give this headset official PC support. Do that, and you've got the next logical step up for anyone dissatisfied with Meta's Quest 2. Stay the course, and at least the PSVR 2 brings Sony's VR ambitions into this decade.
G/O Media may get a commission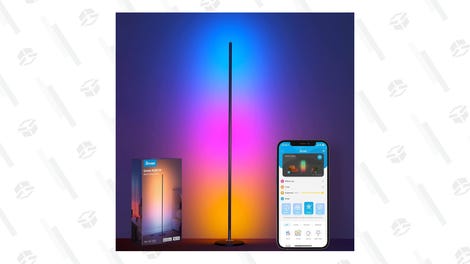 20% Off
Govee Smart Floor Lamp
Light it up
This smart lamp has 16 million different colors, can change as you like, works with Alexa, and can even sync with music to help build the perfect ambience.
Purpose-Built for VR
When Sony's first PSVR headset launched in 2016, it was a late entry effort that haphazardly pulled from existing, non-VR accessories like the Playstation Move controllers and the Playstation Camera to complete its ecosystem. The result was a device that could offer a pared down but similar experience to the original HTC Vive with a fraction of the setup or cost, perhaps using gear you might already have on hand. Now, it feels woefully dated.
At $550, the PSVR 2 is a much more purpose-built device. Everything you need to play comes with it in the box, helping justify its $150 price bump, and it's been greatly streamlined. The per eye resolution has been bumped up from 960 x 1,080 to 2,000 x 2,040, the OLED lenses are fresnel, the field of view is now 110 degrees, and you can finally adjust the IPD (how far the lenses sit from each other) to match your eye distance. There's also no breakout box–you just plug the USB-C cable directly into your PS5 and you're good to go.
But by far the biggest additions are the built-in cameras, eye tracking, and the new PSVR 2 Sense controllers.
You no longer need a Playstation camera, or controllers designed to rival the Wiimote, to play PSVR with motion controls, since the PSVR 2 is coming for modern headsets like the Quest 2. The headset itself has got 6 IR cameras (4 external, 2 internal) for flawless roomscale movement, and the PSVR 2 Sense controllers can do all the finger and hand-tracking any other modern VR headset can, plus finally give Playstation VR access to analog sticks. That means they've got rings surrounding your fingers, but I never found myself bumping up against the arches during play.
Aside from bringing PSVR in line with the competition, the PSVR 2 also throws down a gauntlet by including eye tracking in the base package. Until now, eye tracking has been a luxury feature, limited to headsets like the Vive Pro or Quest Pro, but its use in the PSVR 2 makes it clear that it needs to be a baseline consideration for any headset going forward, regardless of price point. Not only does it let you select menu options or aim in-game simply by adjusting your gaze, but it also allows the headset to lower the fidelity anywhere you're not actively looking, saving on processing power and allowing what you're actively seeing to look much prettier. Despite being seen so far as a high-end feature, it actually makes the most sense on lower-end hardware, so it's nice to see it finally make its way to a consumer-level product.
Basically, if the original PSVR headset was a slapdash but accessible also-ran, the PSVR 2 is slicker and more powerful than its competition. It doesn't require you to buy any accessories and can do everything the competition can, sometimes better—with the exception of wireless or standalone processing. The result is still comfortable, remarkably so for a corded experience, and there's certainly a market for always-connected VR experiences. If the headset knows it's always going to have access to a PS5, that lets developers plan out their graphical load more easily. Not having any processing hardware on board also helps keep the headset's weight down.
So comfortable
It takes some getting used to, but the PSVR 2's all-inclusive design extends to comfort. Unlike the Quest 2, which by default comes with a fabric strap and firm facial interface that have led to a bustling market for third party alternatives, the PSVR 2 is built to accommodate almost every user right out of the box.
It still uses a halo style strap that reduces pressure on the face, and thanks to its weight around 1 pound, the headset still feels light and secure hanging from the strap. Compare that to the Quest 2, which weighs around 1.1 pounds with its default strap, but closer to 1.5 pounds if you add on the official Elite Strap. While there are halo style straps you can buy for the Quest 2, that small bit of extra weight can make them feel flimsy.
The default facial interface is great, providing just enough padding to keep your face comfortable, and excelling in keeping light out. It straddles the sides of your nose, but still leaves enough room for glasses if you wear them. You can actually slide the headset farther away from your face if you find you still need yet more room. If you're farsighted like me, that can also help with blurry images. Because the facial interface stretches like an accordion, it still blocks light even when the headset is completely slid out. The Quest 2, meanwhile, suffers from a noticeable "nose gap."
An IPD adjustment wheel sits atop the headset, allowing you to freely change it in small increments during use, and the PSVR 2 will actually use its eye tracking to help find the right setting for you. During setup, and later via a menu, a guided calibration will simply instruct you to look directly into the center of the lenses, then will stop you when you've spun the IPD wheel to your correct setting.
Again, compare this to the Quest 2, which has no such software tutorial, and simply has 3 IPD settings to choose from, which you must take the headset off to adjust.
The only part of the PSVR 2 hardware experience that still feels like an afterthought is the sound. Like the PSVR 1, the PSVR 2 does not have built-in speakers. Rather, it relies on a separate pair of detachable earbuds, bundled with the device, that wrap around the back of the headset so that a bud is dangling from each side. The solution works well and the buds have 3D audio support, plus the 3.5 mm jack can also take your own earbuds should you prefer to swap them out. I forgot I was wearing buds after a while, but it's a weirdly cheap feeling step to take on an otherwise premium device. It also means you have to dive into the VR menu on your PS5 every time you want to adjust your volume.
I was worried that the long cord that's permanently attached to the bottom of the PSVR 2 would present a tripping hazard, or that it would be awkward reaching up from my entertainment center to my play area, but neither proved to be an issue during my review. The only problem the 14.7 inch cord posed was that it was a tempting play target for my cat.
Easy to set up
Plugging the PSVR 2 into your PS5 brings you to a simple setup menu where you'll pair your controllers via an included USB-C cable and set your IPD using the eye tracking tech as a guide to find your perfect setting (if you're using the sold separately controller charging cradle like I was, you'll need to remove its USB-C to pogo pin adapters first). The console will then prompt you to set your play area, which you can do either by painting it manually or by simply looking around for a few seconds. The latter method's a neat party trick and is almost perfectly accurate, but you can also adjust the area it lays out for you after it's done.
It's an intuitive process, but it's also where you'll probably encounter your first problem with the PSVR 2. Because you have to use the PSVR 2 with your PS5, there's a good chance you're going to have to use it in your living room. Unfortunately, that means there's also a good chance that the headset will warn you that your play area's not big enough for roomscale after you set it.
No matter how I adjusted it, I just could not get the requisite 6.7 x 6.7 feet required for roomscale within my New York living room without moving my couches. This is a distinct downside to other connected headsets like the HP Reverb G2, because when you're able to connect to a PC, you can either connect to a laptop and move it to the most spacious area of your house, or at least use the headset with a desktop PC in a less crowded area.
Granted, the PSVR 2 does not stop you from lying to it about your play area. I turned on roomscale by simply including my couches in my play area, although I found little practical difference between the roomscale experience and the standing experience. I had no issue leaning around to press in-game buttons or pull in-game levers in the latter. I later adjusted my play area to be honest, so that the headset's passthrough camera would warn me if I were about to bump into a couch.
Passthrough here is black and white, but appears to be higher resolution than the Quest 2's. While I doubt AR devs are going to jump on it anytime soon, I had no issues walking around or even holding a conversation while using it. It's also helpful for strapping on your controllers, which will show up as 3D renders when not in a game (and as whatever your game renders them as when you're in it–usually hands).
The PS5 menu is a comfortable way to navigate VR, and is more intuitive to me than the Quest's user interface. Exiting the setup tutorial simply brings me to the same default PS5 menu as usual, projected on a virtual flat display, with a tab for adjusting my VR settings added to it. From there, I simply need to open my game and play as I would any other PS5 app. If I want to adjust my VR settings, it's as easy as holding the Playstation menu button on my VR controller and navigating to the settings tab, the same way I would interact with any Playstation menu element, like the app switcher.
The virtual display also lets you interact with your 2D content, which you can control with a Dualsense controller. You can resize the screen as desired, though media content unfortunately doesn't currently recognize that you're playing it in VR. I tried watching VR videos through the PS5's YouTube app, but they only ever played as 2D. Still, if you want a virtual home theater, the fidelity is here for it, and the facial interface's total light blockage will complete the illusion for you. I wouldn't choose it over a 4K TV, since content displayed on the virtual display tops out at 1080p, but it does give you a greater sense of privacy. If the PSVR 2 worked on laptops, I could see this mode being useful on a flight.
Using the PSVR 2 to play games 
It's difficult to judge the wider PSVR 2 experience based on how individual games built for it play. For instance, if you get motion sickness or can't stand teleport-based movement, the PSVR 2 won't magically solve those issues for you. Individual games might offer some alleviation–Horizon: Call of the Mountain can turn blinders on for you while you walk around–but that doesn't reflect the hardware, isn't unique to the PSVR 2, and depends on the game.
What I can judge is the breadth of the library and how well the hardware performs.
On that latter point, the PSVR 2 is a standout success. Whether it was the original Oculus Rift, the Meta Quest 2, or even the upcoming HTC Vive XR Elite, VR displays have always looked blurry to me, both with and without my glasses. I'm mildly farsighted, enough that I need to wear reading glasses, but not so much that I wear glasses during my day-to-day. Because my prescription's so low, it's always been hard for me to tell whether to wear my glasses during VR, as my glasses actually impair my faraway vision. Do I compensate for the screens right in front of my eyes, or the content that's displayed on them?
While the PSVR 2 can accommodate my fairly wide-rimmed glasses just fine without the need for any spacers, the answer turned out to be going glassesless. And yet, I didn't get the same blur I've gotten on the competition, with the exception of certain menus that were exceptionally close to my eyes–similar to the impairment I'd face in real life.
Whether it was the improved resolution, the OLED HDR displays, or the highly customizable adjustability of the headset, I'm not sure. But it allowed me to focus on the content and made aiming a blaster or a bow actually viable.
As for that content, it's displayed with the same type of fidelity you'd expect from the PS5. Horizon: Call of the Mountain looks right at home next to its non-VR sister games in terms of graphics and art direction, although I found myself more drawn to the stylized look of Song in the Smoke: Rekindled. For whatever reason, that game's lower fidelity assets nonetheless looked crisper to me, perhaps running at a higher framerate. The PS5's lenses can display either the industry standard 90 fps or a higher 120 fps if a game is capable of it.
Eye tracking is, again, certainly aiding the PSVR 2 when it comes to graphics, though games built for it can take advantage of it, too, with Horizon: Call of the Mountain adding aim assist to your arrow shots based on where you're looking. That game also has NPCs adjust their own gazes to match yours, in case you ever wanted to have a staring contest with Aloy.
The only noticeable error I ran into in my play was that, sometimes, games wouldn't want to adjust between sitting and standing modes even after I changed my playstyle in both their menus and the PS5's system menu. Restarting the game usually fixed this, though I found it to be a problem when I was in standing mode and Horizon suddenly and temporarily put me on a kayak, prompting me to want to sit, but with the camera position still acting as if I were standing.
The library is limited
It's the game library that brings the PSVR 2 down from a must-buy to a wait-and-see. I tested the headset with Horizon: Call of the Mountain, Star Wars: Tales From Galaxy's Edge Enhanced Edition, Moss Book I and II, Thumper, and Song in the Smoke: Rekindled. As much as I was taken with Moss' clever use of diorama and diegetic acknowledgement of the player, that list reveals the PSVR 2's glaring weakness.
Of those games, only one, Horizon: Call of the Mountain, is entirely exclusive to PSVR 2 (Star Wars and Song in the Smoke are exclusive remasters of multiplatform games, at least for now). In that exclusive, you'll experience the same tech demo-esque Disneyland spectacle, slow mountain climbing, and (genuinely exciting) archery you can experience in plenty of other VR titles.
Being a great way to play multiplatform titles is, in itself, not a problem. It's what most VR headsets sell themselves on. The issue arises in what you're locking yourself into if PSVR 2 is your only headset. PSVR 2 is launching with 37 games right off the bat, with two big exclusives in Horizon: Call of the Mountain and a VR mode for Gran Turismo 7. It's an impressively diverse launch library, but it could be much larger, and there's a chance you already own, but will have to rebuy, much of it.
That's because the PSVR 2 is not backwards compatible with games designed for PSVR 1. It's the big "but" hanging over this whole review. Games like Ace Combat 7's VR mode or Borderlands 2 VR won't load on it. That's likely because of the PSVR 2's different control and camera layouts. My guess is this painful limitation is there because the games wouldn't be expecting new hardware like the built-in cameras, and probably wouldn't know how to interpret it. But on top of locking you out of classics like Resident Evil 7's VR mode, which is currently only speculated to be coming to PSVR 2, it might actually make you open up your wallet to rebuy any existing content that's survived the transition, much of which makes up that list of 37 games.
Rez Infinite, for example, has been upgraded for PSVR 2 and is being counted as a "launch title." It also costs $10 for PSVR 2, whether or not you already own it for PSVR 1. Other upgrades are free, but whether or not to charge for an upgrade is wholly dependent on the game's developer, not Sony.
The 37 titles, while a wide selection, also still won't appeal to every playstyle. Compare that to Meta or Steam's massive stores, which are more likely to include smaller hits like Walkabout Mini Golf. That game is coming to PSVR 2 "soon," but has been out for PC since 2020.
More damningly, some massive hits like VR Chat just aren't slated for PSVR at all. If you're one of those people who can stomach Blade and Sorcery, prepare yourself for Sony generic brands like Swordsman.
It's hard to know how much to fault the PSVR 2 for this. Having to rebuy new games for new consoles is, unfortunately, a part of the console gamer experience. I've certainly rebought Wii U games on Switch simply because I don't want to dust off my old Wii U to play them again. But it's going to be a hard pill to swallow for VR gamers, who have thus far been able to take their games with them across devices, much like a PC gamer. It's also common and fair to criticize consoles for not having ports of certain popular games, and a VR headset that can't play VR Chat does feel a bit like a kitchen without a toaster.
Further, the library here is entirely limited to games. While the PSVR 2 has the hardware necessary to host social or productivity VR apps, eclipsing devices that the market is angling as ushering in a "metaverse," it cannot currently take advantage of it. Not even for currently accepted non-game use cases like watching VR films or virtual sculpting.
The PSVR 2 is not ready yet
If the PSVR 2 were on PC, it would be my favorite VR headset, full stop. For a $150 premium over the Meta Quest 2, or $50 under the HP Reverb G2's base MSRP (it gets frequent sales), you get comfortable hardware that is better in many respects and comes with premium features like eye tracking.
Granted, sticking to the PS5 means the PSVR 2 will always know the hardware it has to work with, and it also means you won't have to upgrade your PC just to use connected VR. But it feels like Sony, which is also a larger electronics company beyond the Playstation brand, has shot itself in the foot here.
Forcing this excellent, and costly, hardware to tether to PS5 also forces it into the living room, where it might not have space to shine and is more likely to live as an expensive toy than the more robust headset it could easily be. It also massively restricts its library, and casts doubt over whether users who buy it now can expect strong support in the future.
$550 is a lot to ask for hardware that's so needlessly limited. For less than that, you can buy similar devices with much more robust use case support. Is it fair to malign a Playstation product for only working on the Playstation?
Perhaps. Sony's Inzone peripherals, though clearly designed with the Playstation in mind, work with other devices. As does the Dualsense. Thanks to fan support, so does the PSVR 1.
I'd love to see similar support come to the PSVR 2 in an official capacity, and sooner rather than later. It made sense, because of its need for the Playstation Camera and Move controllers, to tie the PSVR 1 to the PS4. But the PSVR 2 is a proper modern headset, one that could be equally at home on PS5 and PC, and one that's spec sheet and value proposition is well positioned to blow the competition out of the water.
Until official or unofficial PC support comes to it, or until the PSVR 2 library is large enough to offer you the experiences you know you're going to want, it will instead remain isolated as a big fish in a small pond.
Sony's software team has shown a willingness to bring experiences formerly exclusive to Playstation to PC as of late. There's a potential future for the PSVR 2 that's very bright. As it is, unless Horizon or Gran Turismo really appeal to you, my recommendation is the same as with most new consoles: wait until it's got more support.