The maiden voyage of India's Small Satellite Launch Vehicle did not go as planned in 2022, but the country's space agency is ready for a re-attempt, with the rocket slated to blast off on Thursday. Meanwhile, SpaceX is hoping to launch a communications satellite on Monday.
Another week, another batch of launches planned. Such is the current state of the spaceflight industry, with flights to space now happening with startling frequency.
Falcon 9 to deliver large communications satellite
SpaceX is targeting Monday evening for a Falcon 9 launch of Hispasat's Amazonas Nexus communications satellite. A Falcon 9 will attempt the launch at 5:32 pm ET from Space Launch Complex 40 at Cape Canaveral Space Force Station in Florida. The rocket was supposed to blast off Sunday, but poor weather forced a scrub. The latest weather reports suggest a 90% chance of favorable weather conditions for liftoff.
The 4.5-metric-ton high-throughput satellite, built by Thales Alenia Space, will work in geosynchronous orbit and cover both North and South America, the North Atlantic corridor, and Greenland. Hispasat is a Spanish satellite communications operator that distributes more than 1,250 television and radio channels through its satellite fleet.
The first stage booster is flight-tested, having previously launched the SES-22 satellite, ispace's HAKUTO-R lunar lander, and three Starlink missions. The company's Just Read the Instructions The droneship is currently stationed in the Atlantic Ocean and will be ready to receive the incoming booster.
G/O Media may get a commission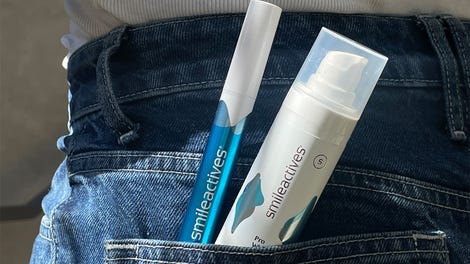 58% off
Whitening Powerhouse Pen & Gel Duo
BRIGHTEN YOUR SMILE
Whiten your teeth at home with Smileactives' one-two punch: the Whitening Powerhouse Pen & Gel Duo. This set will get you the kind of teeth brightening power that uses the same ingredients that dentists rely on for in-office whitening treatments for a fraction of the price.
A Russian cargo mission to the ISS
Russia's Progress MS-22 cargo mission, or Progress 83 as it's cataloged by NASA, is scheduled for launch on Thursday at 1:15 a.m. ET. A three-stage Soyuz 2.1a will lift off from the Baikonur Cosmodrome in Kazakhstan, with the uncrewed cargo ship expected to dock at the International Space Station on Saturday, February 11 at 3:00 a.m. ET. The launch and docking will be broadcast live on NASA TV.
India hoping for success with new small rocket
The Indian Space Research Organization (ISRO) appears ready to launch its EOS-07 mission, a successor to the failed first flight of the country's Small Satellite Launch Vehicle (SSLV) in August 2022. The 111-foot-tall (34-meters) three-stage SSLV rocket is scheduled to launch from Satish Dhawan Space Center in Sriharikota on Thursday at 10:18 pm ET.
The total payload mass is roughly 736 pounds and consists of the EOS-7 Earth observation satellite and two co-passenger satellites, including Janus-2 from US firm Antaris. ISRO said it identified the cause of the flight anomaly that resulted in the botched launch from 2021, in which the rocket failed to place the satellites into their correct orbit, and said corrective actions have been put in place.
A possible Starship static fire engine test
This could be the week when SpaceX finally lights up all 33 Raptor engines of Booster 7, the first stage of the Starship launch system. A static fire test did not happen last week as hoped, with SpaceX spending much of the week swapping out Raptor engines in preparation for the test.
No firm date or time has been given for the test, but scheduled road closures near SpaceX's Boca Chica launch facility in southern Texas suggest it could happen at some point between Tuesday and Friday. The company does need to get going, however, should Starship aim to launch at some point in March, as CEO Elon Musk stated on Twitter this past weekend.
More: Richard Branson's Satellite Launch Company Isn't Doing So Hot