Even as DC Studios looks to the future with James Gunn's and Peter Safran's new slate of movies, the specter of Warner Bros.' decision to axe Batgirl before its completion as a tax writeoff still lingers—especially for star Leslie Gracewho still sees hope for her future in the cowl, even as she reveals just how poorly the film's scrapping was handled.
Speaking to Variety in her first full interview since Batgirl was canceled last August, Grace touched upon how out of the loop she was kept during the process of her headlining DC role being put out to pasture. "I found out like the rest of you," Grace told the trade, referring to the news reports that broke the movie's cancellation. "And then my phone just started blowing up."
"It was like deflating a balloon. On that day, I was very much just taking it all in, but also so sure of the magic that happened—in my experience and what I saw in my cast, in our team — that I was like,This must be some crazy thing that we have no control over.'"
Grace also noted that she has yet to speak with new DC overlords James Gunn and Peter Safran, even as the duo publicly revealed their new lineup of DC projects across film and TV earlier this month—and even as Safran in particular publicly disparaged that Batgirl "was not releasable" during the proceedings.
"I had my own meetings with Warner Bros. Film Group CEOs Pam Abdy and Mike De Luca, and they explained to me, on a granular level, what they felt about the project, things that were out of their hands, plans and budgets that were set in place before they were even part of the team," Grace said of Safran's comments. "There are a lot of things that I learned through the experience about moviemaking, that as an actress you have no control over. They weren't really specific on anything creative in terms of what they felt about the film and how it would've hurt DC creatively."
G/O Media may get a commission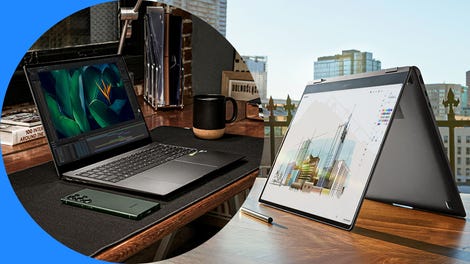 Pre-order now
Galaxy Book 3 Series
Available February 24
Each new laptop model comes with a free storage upgrade. The 1TB version of each is priced the same as the 512GB version which basically means the 1TB version is $200 off.
"But I'm a human being, and people have perceptions and people read things," she continued. "And when words are expressed very lightly about work that people really dedicated a lot of time to—not just myself but the whole crew—I can understand how it could be frustrating."
In spite of the ways she was kept in the dark about the decisions made over Batgirl, Grace still has some optimism about people actually getting to see her in Barbara Gordon's bat-cowl at some point, noting that she still talks to directors Adil El Arbi and Bilal Fallah about sequel ideas, or ponders the possibility of The Batman's expanded universe giving a home to her take on Barbara. "We've definitely had conversations about Batgirl's future and how Batgirl can make a resurgence. I think fans are looking forward to seeing that," Grace concluded. "We'll just see where that takes us; I can't say one way or the other if that is a reality at this point. I can't speak too much about a future for Batgirl or guarantee anything. The last thing that I would want to do is give people any kind of inkling of something that I don't have much control over—as we've learned."
---
Want more io9 news? Check out when to expect the latest Marvel, Star Warsand Star Trek releases, what's next for the DC Universe on film and TVand everything you need to know about the future of Doctor Who.