ChatGPT has become quite popular lately and is taking over the world by providing AI-driven answers to almost any valid questions asked. However, before interacting with this AI, you must create a profile using your email-id or mobile number. If you're not able to or not willing to log in, this article will guide you with ways to use ChatGPT without Signup or Mobile Number. Alternatively, you can also learn about Google's answer to Chat GPT with the Google Bard AI.
What is ChatGPT?
Before we proceed on learning how to use ChatGPT without sign-up, let's first understand what ChatGPT is all about.
ChatGPT is an AI-trained model that has the ability to interact with you in a conversational way. It has been developed by OpenAI and was launched in November 2022. ChatGPT has become quite popular because it provides you with artificial intelligence-based responses to almost any valid questions you ask for.
How to Use ChatGPT Without Any Signup for Waiting List
As you may have noticed, due to huge demand, and users trying to access ChatGPT, the servers at OpenAI have reached the limits and are not allowing any new sign-ups. Or if you don't want to create an account, yet still want to use ChatGPT, here are the easy ways to use it without any signup or mobile number.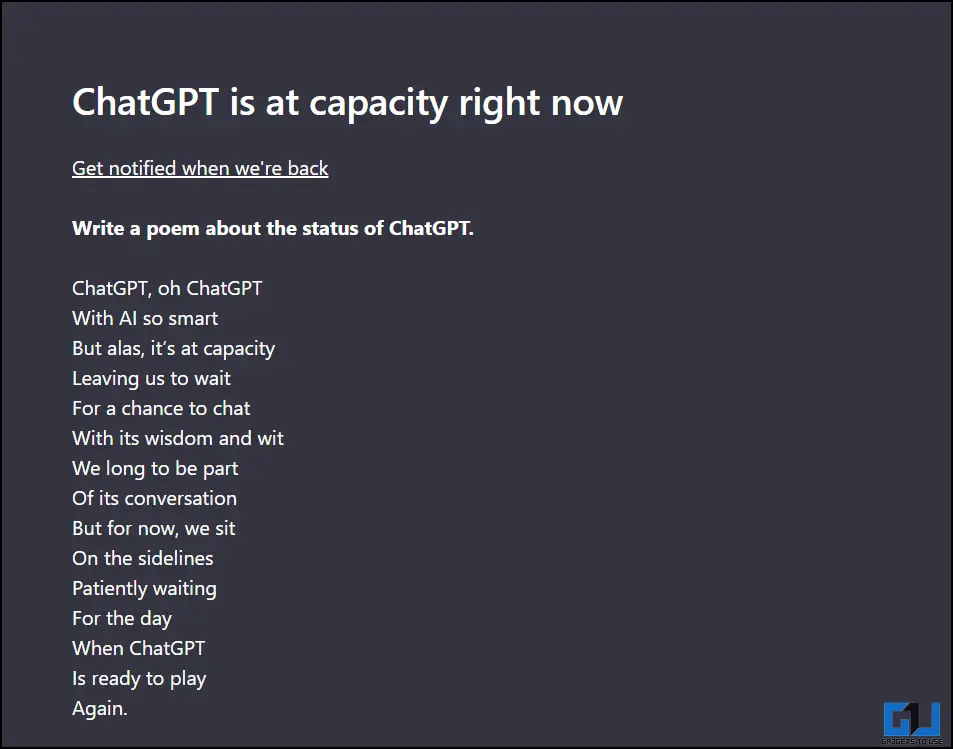 Using replyGPT Twitter Bot
If you are a Twitter user, there are many bot accounts, you can interact with to use ChatGPT, which will respond to your questions or reply to your conversations.
To ask the bot to respond to an existing tweet, simply tag @replyGPT in the reply to that tweet, and it will do the job on your behalf.
It is capable of generating unique, funny, and even sarcastic responses with a decent understanding of the context it gets from the original tweet.
Using ChatGPTBot on Twitter
Unlike replyGPT which is capable of only responding to pre-existing tweets, you can use the ChatGPTBot to initiate a conversation or ask a question out of the blue. Here's how to use it.
1. Ask your question and tag @ChatGPTBot in the same tweet.
2. Now, Wait for the bot to respond.
This bot responds to the question similar to what the ChatGPT website would do, but without having you sign up on the OPne AI website.
Using ChatGPT Telegram Bots
Another way to access ChatGPT AI, without having to sign up on the Open AI website, is via the Telegram bots. It allows you to chat with the AI ​​model as a Telegram chat. Here's how it can be done.
1. Look up for OpenAI GPT-3 DALL-E bot on Telegram.
2. Click on Start to initiate a conversation with the bot.
3. Now, you can ask your query to the telegram chatbot.
The Dall-E model on Telegram, however, has a daily quota that is currently limited to only ten queries, to ensure the servers are not overloaded.
Using Bing AI Search
Last but not the least, you can use Bing search, as Microsoft has integrated ChatGPT into their Bing search to answer your questions as ChatGPT does.
1. Go to the Bing website on a web browser.
2. Here, simply Ask your question. Bing will now use artificial intelligence to craft a personalized response to your query.
As of now, the mobile experience is not much optimized as it often does a regular search. For a better experience, you can check out our guide to using Bing AI on the web and explore more features Microsoft has incorporated within its AI system.
FAQs
Q: Why is ChatGPT not responding?
A: ChatGPT is currently running at its maximum capacity due to the surge of users. If you are using a free version, it can prevent you from accessing it for some time, or responses may take longer than usual.
Q: Is ChatGPT free to use?
A: Yes, ChatGPT is free to use for individuals. However, for faster responses or availability even during peak hours, you can subscribe to ChatGPT Plus for $20 a month.
Q: Is there a way to use ChatGPT without visiting the website?
A: Yes, there are numerous services and bots that have incorporated ChatGPT in their services. We have listed a few Twitter bots, Telegram bots, and more services above in the article, which you can use.
Wrapping Up: Explore ChatGPT without SignUp
In this read, we discuss easy ways to use ChatGPT without signing up or registering your mobile number on the Open AI website. We hope the article helped you achieve the same. If you found this guide helpful, then share it, and check out more tech tips and tricks linked below. Stay tuned to GadgetsToUse for more such reads.
Also, Read the following:
You can also follow us for instant tech news at Google News or for tips and tricks, smartphones & gadgets reviews, join GadgetsToUse Telegram Group or for the latest review videos subscribe GadgetsToUse YouTube Channel.