Private numbers are fairly interesting because they allow you to communicate without disclosing your identity. However, if you have ever encountered a private number calling on your phone and wish to find the caller's identity, this read is for you. This article demonstrates several effective methods to find out the caller identity of a private number. Additionally, you can learn how to fix Can't See Who Liked Your Tweet.
How to Find the Caller Identity of a Private Number
A private phone call is usually an anonymous call from a spammer/unknown source whose main intention is to hide his/her identity. Such phone calls are labeled as private or unknown on your phone without any contact details. In order to identify and avoid such calls, you can use the below-mentioned methods to find the true identity of the private caller.
Use the Phone/Dialer App to Reconnect to the Private Caller
If you live in the United Statesyou can use your phone/dialer application to reconnect to the private call by dialing a country-specific call return code before any other call arrives. Follow these steps to achieve the same.
1. Open your Phone/Dialer app after receiving the private call.
2. Dial *69 on your phone or landline before any other call comes.
3. You can now instantly reconnect to the private phone caller. This method largely depends on you carrier operator as some calls might redirect you to a computer-generated phone call dictating the private call phone number or, in some cases, connect you back to the private caller itself.
4. Below is the list of country call-return codes that you can dial to reconnect to the last caller. To know more about call-return codes, check out the official list of call-return codes.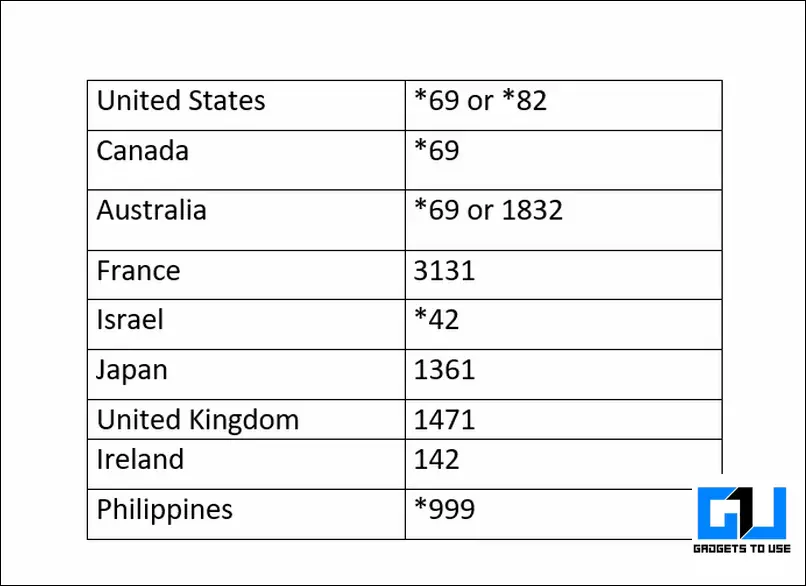 Use Truecaller to Find the Identity of a Private Number
Another effective method to identify the caller identity of a received private call is through third-party dialer apps such as Truecaller. Using this app, you can conveniently access and know the details of the incoming private call before even picking it up. Follow these steps to achieve the same.
1. Launch the Truecaller app (Android, iOS) on your phone.
2. Tap on the Get started button to configure the app.
3. Set the Truecaller as your default dialer app, by clicking the Set as Default button.
4. On the main page, tap on the hamburger menu and press Settings.
5. Under Settings, tap on General and scroll down to turn on Call Alert Notifications.
That's it. You will now receive caller details whenever you receive an incoming call on your phone (including private calls). Here's our guide to Fix Caller ID Disabled on Truecaller.
Use the Caller ID App to Get Notified of Incoming Calls
Another effective app to easily identify incoming private calls is through the Caller ID app. For the time being, this app is currently available only on the Android platform. Follow these steps to identify an unknown caller using this method.
1. Install the Caller ID app on your phone.
2. Tap on the Get Started button to start configuring the app.
3. Provide the necessary contacts and phone access permissions to the app when prompted.
4. This app can show you incoming caller identity using a popup/banner whenever a call arrives on your phone.
5. It will scan your contacts and call logs to identify any existing spam/unknown callers.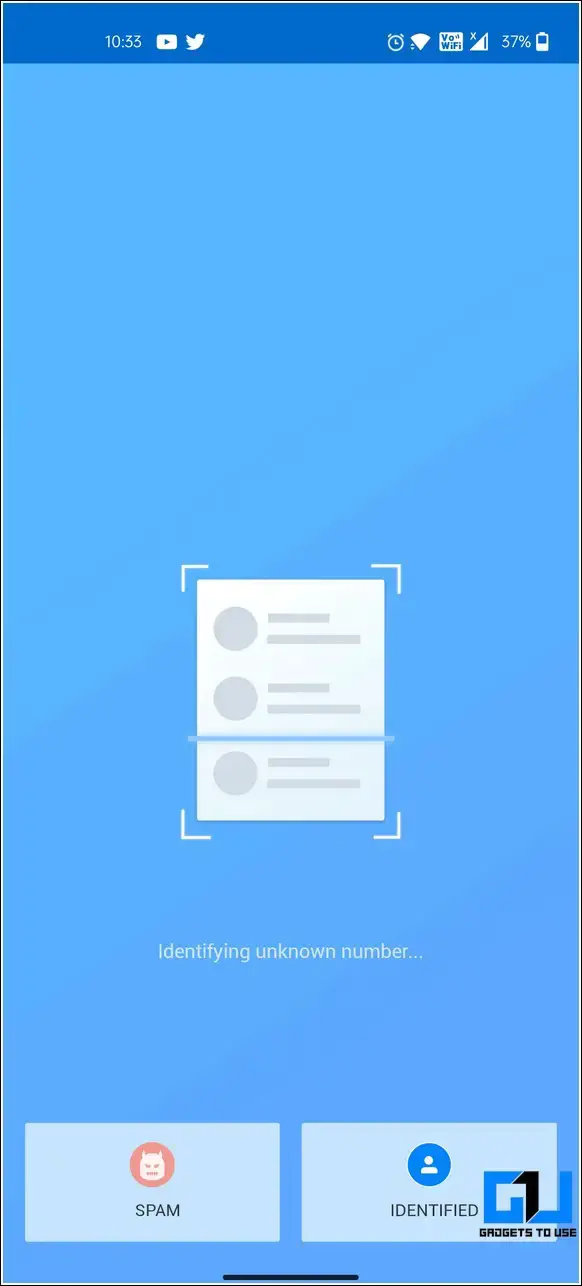 6. Now, on the main page, tap on the hamburger menu in the top-left corner of the app screen and tap on Settings.
7. Further tap on the Caller ID option to configure the associated settings.
8. Ensure to enable the toggle for the Show Unknown Callers option. That's it. You can now easily identify an unknown/private call when an incoming call arrives on your phone without picking it up.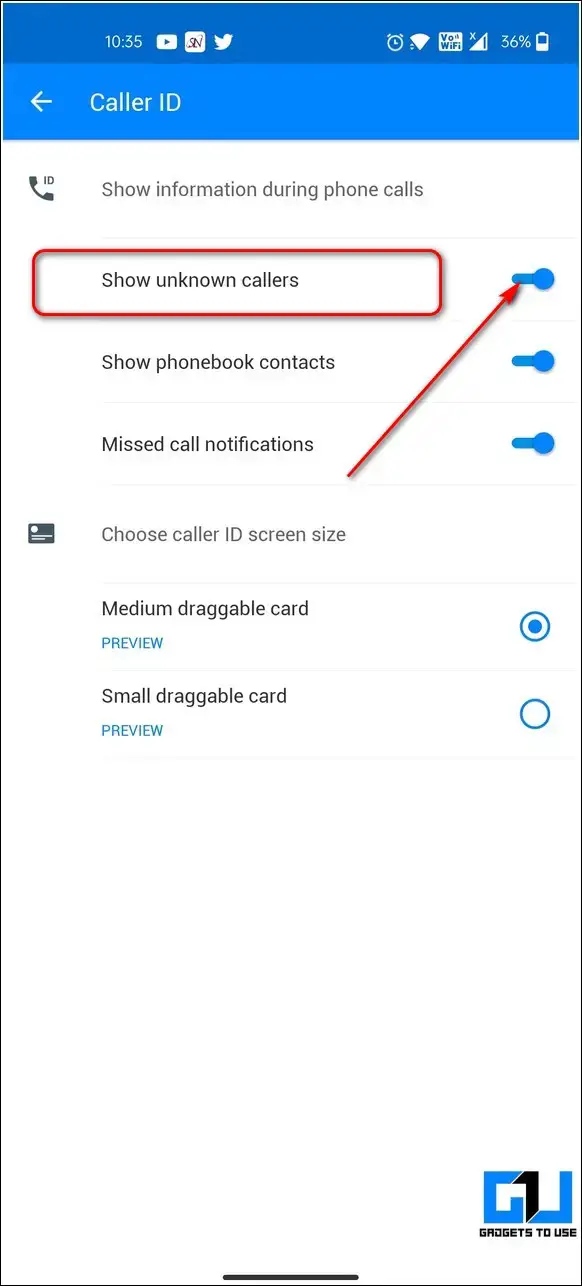 Bonus: Utilize WhatsApp to Find the Caller Identity of a Private Number
Besides using Truecaller for call identification, you can send a WhatsApp message directly to a private caller using in-app options. Here's how:
1. Open the Truecaller app and locate the received private number call log.
2. Next, scroll down to the bottom to locate the WhatsApp option and tap on it to message the caller directly via WhatsApp. If the private caller is registered on WhatsApp, you can view the profile picture to identify him/her.
FAQs
Q: How to Unmask a Private Number?
A: You can use Truecaller or other third-party apps to unmask a private call to reveal its contact information easily. For more details, refer to the steps above.
Q: How to check the details of a Private Number that called you on Android/iPhone?
A: To check the details of a private number, you can either dial a call return code on your phone or use WhatsApp to check the details of the unknown caller. Refer to the methods mentioned in this guide for more information.
Q: How to call back a Private Number?
A: Simply dial your country-specific call-return code to call back a private number. In case it is not supported, you can take the help of other caller identification apps such as Truecaller and Caller-ID.
Wrapping Up: Find Anonymous Call Identity Like a Pro!
We hope you've successfully learned to identify a private call on your phone using this explainer. If you find it useful, forward it to your friends and check the links below for more digital awareness guides. Stay tuned to GadgetsToUse for more such reads.
You might be interested in the following:
You can also follow us for instant tech news at Google News or for tips and tricks, smartphones & gadgets reviews, join GadgetsToUse Telegram Groupor for the latest review videos subscribe GadgetsToUse Youtube Channel.