Moscow's defense ministry said in a statement reported by state news agencies early Friday that its troops and equipment had been withdrawn from the western bank of the Dnieper River, finalizing their embarrassing exit from the city of Kherson and much of its surrounding area.
That was quicker than many Western analysts and officials had predicted, fueling some skepticism. Ukraine said lingering Russian fighters had dressed as civilians to avoid detection and capture.
"Kherson returns under control of Ukraine, parts of Ukrainian Armed Forces enter the city," the Main Directorate of Ukrainian Intelligence wrote on its Facebook page.
"Your commanders urge you to dress in civilian clothes and try to escape from Kherson on your own. Obviously you can't do this," he said in a message to Russian soldiers. "You have only one chance to avoid death — to surrender immediately."
Kremlin spokesman Dmitry Peskov denied the episode was humiliating for Putin, who only weeks ago had proclaimed the region's annexation.
In the center of Kherson, the strategic port city seized by Putin's forces in the war's earliest days, video and photos verified by NBC News showed residents chanting and celebrating as they waved Ukrainian flags outside the regional administration building. Some threw Ukrainian soldiers into the air.
But officials in Kyiv remained wary, warning that Russian forces could inflict severe damage through artillery strikes and mines left behind as they pulled out.
A deadly missile strike was reported in the nearby city of Mykolaiv, while a key bridge over the Dnieper River was left in ruins in the wake of the Russian exit, according to images and video that emerged Friday and were verified by NBC News.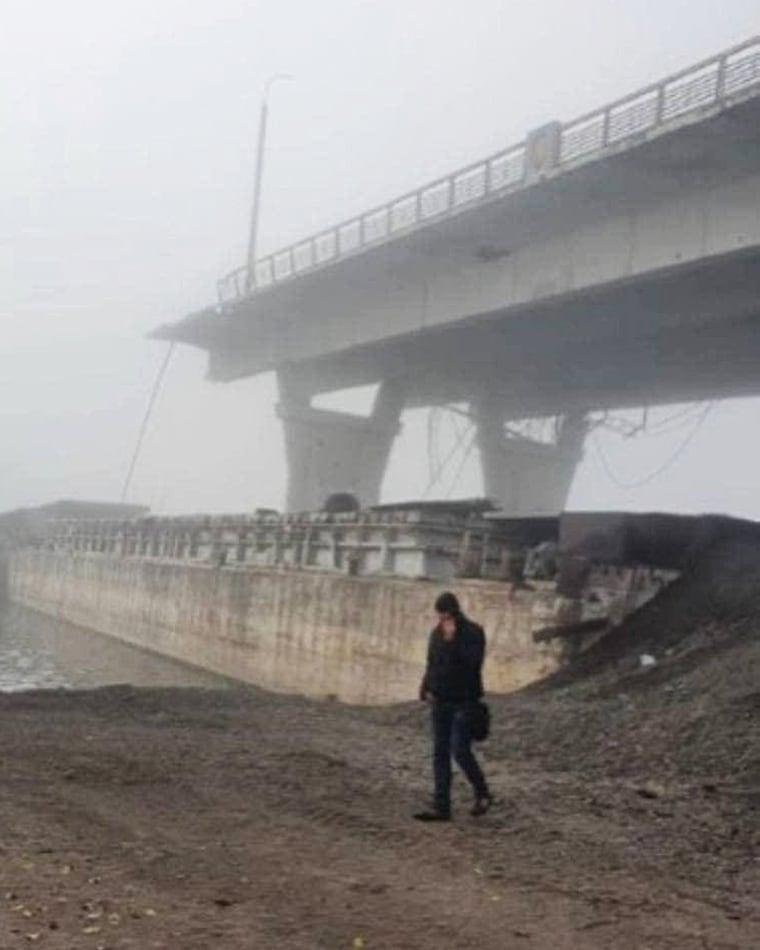 The Antonivskiy Bridge is the only road crossing from the city of Kherson to the eastern bank of the river, where Russian forces have now established their new defensive lines.
The damage to the bridge may slow any further Ukrainian advance, but for now its army and local residents were happy to return the country's flag to territory that had been occupied since the early days of the war.
'A major blow'
Retaking Kherson could be a strategically and psychologically crucial victory for Ukraine.
It was the only regional capital city seized and controlled by Russia since its full-scale invasion Feb. 24 and its capture helped ensure access to the coast, allowing the Kremlin to create a land corridor across Ukraine's south.
It also acts as a vital gateway to the Crimean Peninsula, which Russia has occupied since 2014.
The Ukrainian military targeted the main Dnieper River crossings for months, making it difficult for Russia to supply forces on the river's west bank. Since they burst through Russia's front lines at the beginning of October, the Ukrainians slowly advanced towards Kherson.
Losing the city "is a major blow for the Russians," Christopher Tuck, an analyst in strategic studies at King's College London, told NBC News.
It made "Putin look weak and it makes Russia look weak," he said.
"It was only a few months ago that Putin was identifying the region of Kherson as part of Russia itself," he added, referring to the declaration at the end of September that Moscow had annexed the Kherson region, along with Donetsk, Luhansk and Zaporizhzhia. . It came after Russia staged referendums that were denounced by Kyiv and the West as illegal and rigged.
Tuck said that it was also a boost for Ukrainian President Volodymyr Zelenskyy "because it's an indicator that the earlier gains that Ukraine made in the northeast weren't just a one off and there is more momentum behind his country's military efforts."