If you live in a noisy neighborhood or wish to check the noise level of a place, then you've come to the right spot. With technological advancements, the noise levels can be measured with a smartwatch, like the Galaxy Watch 4, or you can use a smartphone to get high noise level alerts. Today we will discuss high noise level alerts on your smartphone. Additionally, you can use SOS apps to quickly send emergency alerts to your loved ones with the location.
How is Noise Level Measured?
When it comes to measuring noise levels, a decibels is the measurement unit for it. The louder the noise gets, the higher its corresponding decibel value will be. To further measure noise levels more accurately, the 'audible noise levels' range from a scale of 0 to 130 dB, beyond which the sound becomes unbearably painful. Check out the illustrations below to understand different noise levels with examples:
Now that you've understood various noise levels let's look at different apps that can help you measure precise noise level readings and get high noise level alerts in a jiffy. Let's get started.
How to Measure Noise Level on Smartphones
No matter which phone you have, you can use these third-party apps to measure high noise levels and receive alerts if they rise.
Decibel X [Android/iOS]
Decibel X is undoubtedly the most popular app across Android and iOS platforms that turns your smartphone into a professional sound level meter. In addition, the app allows you to set your own threshold for noise to help you avoid places with high noise levels. Here's how you can use this app to get high noise level alerts on your device:
1. Install the Decibel X app (Google Play Store, Apple App Store) and press the Continue button.
2. Choose your desired language and press the Enable button to provide microphone access.
3. You can now analyze the real-time high noise level using this app on your screen with the corresponding frequency chart.
4. Next, tap the Settings icon at the bottom-right corner and scroll down to locate the Loud Noise Detection section.
5. Finally, turn on the Enable button and set your desired noise level threshold value to generate an alert for high noise.
6. As soon as the app detects a high noise level greater than the defined threshold, you will receive a popup notifying you of the same.
Noise Alarm App [Android]
The Noise Alarm app is another useful Android application that helps you get high noise level alerts on your device by setting a preferred threshold value. Follow these steps to get the most out of this app:
1. Install the Noise Alarm app from the Google Play Store and launch it on your device.
2. Next, provide microphone access to the app.
3. Once enabled, the Noise Alarm app will show you the current noise levels.
4. To set a high noise alarm, drag the slider at the bottom to your desired value and press the Start button.
5. As soon as the noise level crosses the threshold value, you will hear a loud alarm sound from the app.
6. Additionally, the app offers to customize the alarm sound with three presets accessible under its settings.
Sound Meter [Android]
The Sound Meter app is a nifty alternative that helps you to measure environmental noise with your phone. Unlike other apps, the app alerts of high noise levels by changing it background colors. Here's how:
1. Install the Sound Meter app from Google Play Store and provide microphone access to it.
2. Once enabled, the Sound Meter app will show you real-time noise levels on the app's home screen.
3. Tap the hamburger menu in the top-left corner and press the Settings option.
4. Finally, turn on the Level Notification option. Once enabled, the app will automatically change its background color with different levels of noise. For example, the background turns red when the app detects high noise levels.
dB Meter [iOS]
The dB Meter app is another useful counterpart for iPhones that offers near-accurate noise measurements with useful features such as Noise Dosimeter, Spectrum Analyzer, and much more. You can take advantage of this app by following these steps:
1. Install the dB Meter app and launch it on your iPhone.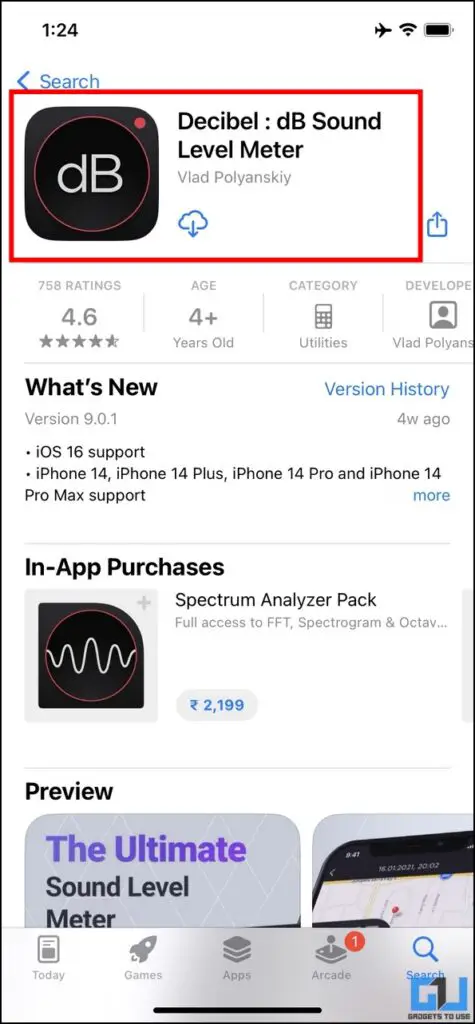 2. Next, accept the app's terms and conditions and provide Microphone access to it.
3. Select your desired noise level meter style on the next page.
4. You can now view the current noise level on your iPhone with the corresponding app inferences at the top.
5. Additionally, you can tap the device button in the leftmost corner to switch and measure sound via a different microphone, if your phone has multiple mics.
6. Finally, press the Dosimeter tab at the bottom to verify if the current noise level is safe for your ears.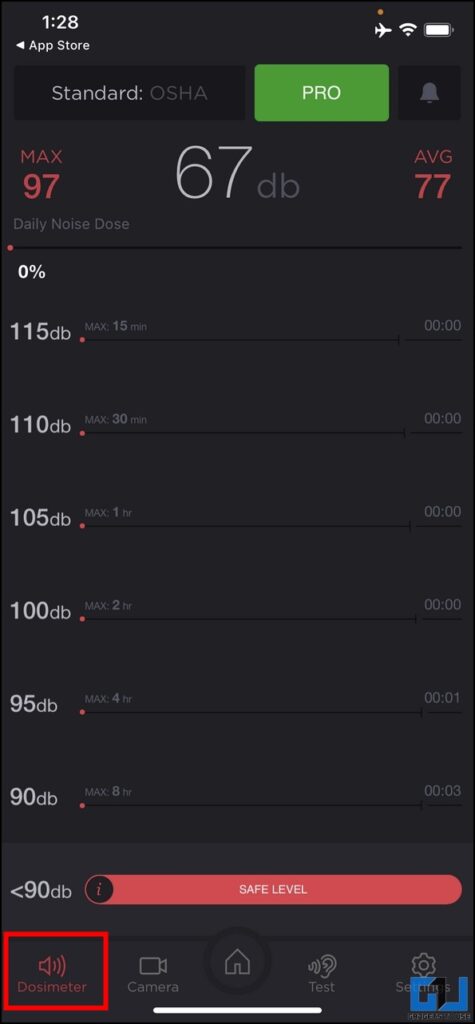 Sound Meter [iOS]
Besides the dB meter, the Sound Meter app offers a classic meter-like interface to measure the noise levels in real-time. To make things more convenient and readable, it plots the detected sound levels on a chart displaying text inferences. Here's how:
1. Install the Sound meter app and open it on your iPhone.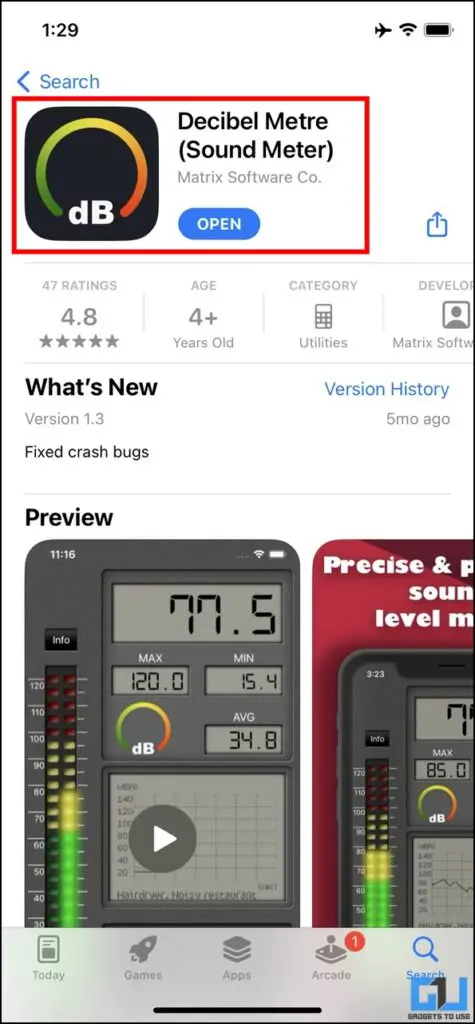 2. Next, tap on the Start button and provide the necessary microphone access to the app.
3. Once the required permissions are set, the app will show you the current noise levels through a visual bar and chart indicator.
4. The graph will constantly display text inference with changing noise levels to notify high noise levels.
Bonus Tip: Report Loud Music and Loud Pollution Complaints in Delhi
Now that you've learned to detect high noise levels using your smartphone, you can report them to the concerned authority if you reside in Delhi. Follow our detailed explainer on how to report loud music and other noise pollution complaint in Delhi to get more details on it.
Wrapping Up
So, these are all the details on how to get high noise level alerts on your Android or iPhone. If you found this explainer helpful, then share it with others to help them measure and report unnecessary noise pollution around them. Check out other useful tips linked below, subscribe to GadgetsToUse, and keep checking back for more helpful guides.
You might be looking for the following:
You can also follow us for instant tech news at Google News or for tips and tricks, smartphones & gadgets reviews, join GadgetsToUse Telegram Group or for the latest review videos subscribe GadgetsToUse Youtube Channel.