Have you been searching for a way to rewatch an Instagram Reel you recently swiped away? Don't worry; we have you covered. Starting with the basics, one way to do it is to download Reels videos with sound for free on your phone to watch them anytime. Besides that, this explainer will demonstrate to re-watch your Instagram Reels History. Furthermore, you can learn to watch Instagram Reels on PC and Mac.
How to Check Instagram Reels History?
In this read, we have discussed five ways to check your reel history, and replay your favorite reels on Instagram. Without further adieu, let's dive into them.
Explore Instagram Reels that you've liked before
Instagram allows users to trace back and re-watch the videos/reels they have liked while browsing the app. This way, you can easily locate your favorite Instagram Reel by browsing the entire like history. Follow these steps to try this on the Instagram app.
1. Open your Instagram profile in the app (Google Play Store, Apple App Store) and press the Menu button in the top-right corner.
2. Next, tap the Your Activity option.
3. Tap the Interactions option and then select likes to see all your liked reels and posts on Instagram.
4. Finally, browse the list to locate the reel you wish to rewatch and tap on it to play.
Browse Saved Tab to Check Instagram Reels Watch History
If you like watching a reel on Instagram, you can save it to your account to view it later. This way, you can conveniently re-watch your favorite Instagram reel per your wishes. Follow these steps to locate the reels you have saved on Instagram:
1. Open the Instagram app on your phone.
2. Switch to the Profile icon from the bottom right corner of the screen.
3. Open the Hamburger menu by tapping on the top right corner of the screen.
4. Next, press the Saved option to view all your saved reels and posts on Instagram. Browse through this list to locate and re-watch your favorite Instagram reel.
Check Instagram Reels Watch History from your Account Activity Data
Instagram keeps an entire activity log of each user interacting with its app. This activity log is a detailed report of everything you have done on the app. You can request and download this detailed activity report by accessing Instagram on your PC. Using this data, you can easily locate all the reels you've watched in the app. Follow these simple steps to achieve the same.
1. Open and sign in so Instagram webin a browser on your PC/Laptop.
2. Next, click on the More button in the bottom-left corner to open Settings.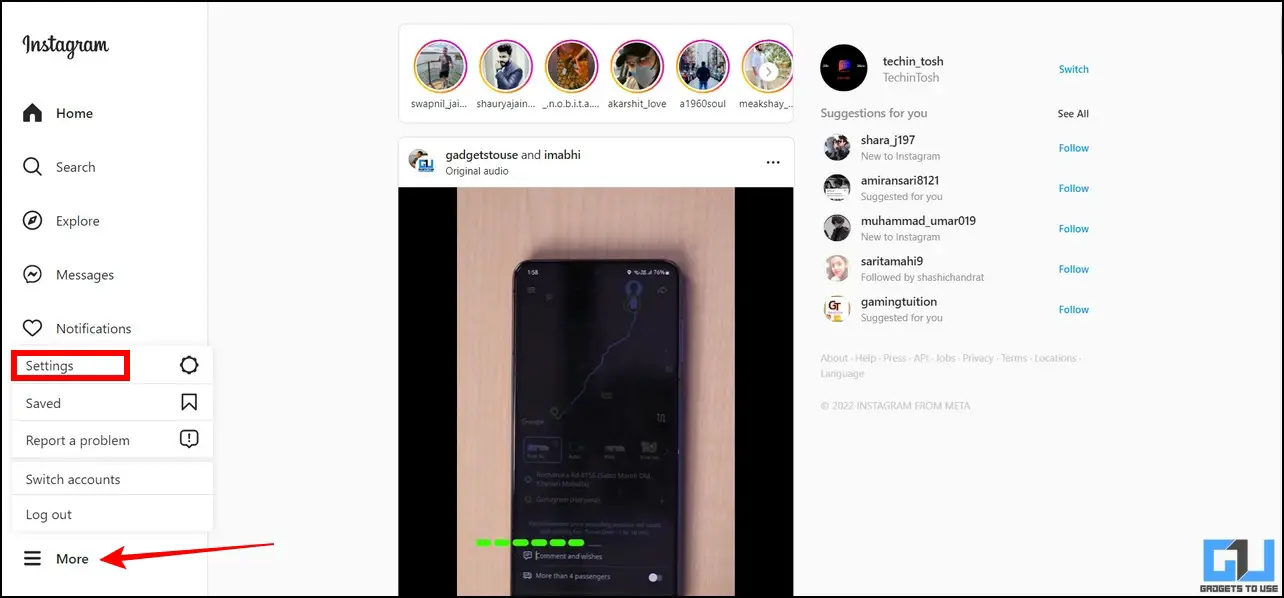 3. Navigate and expand Privacy and Security.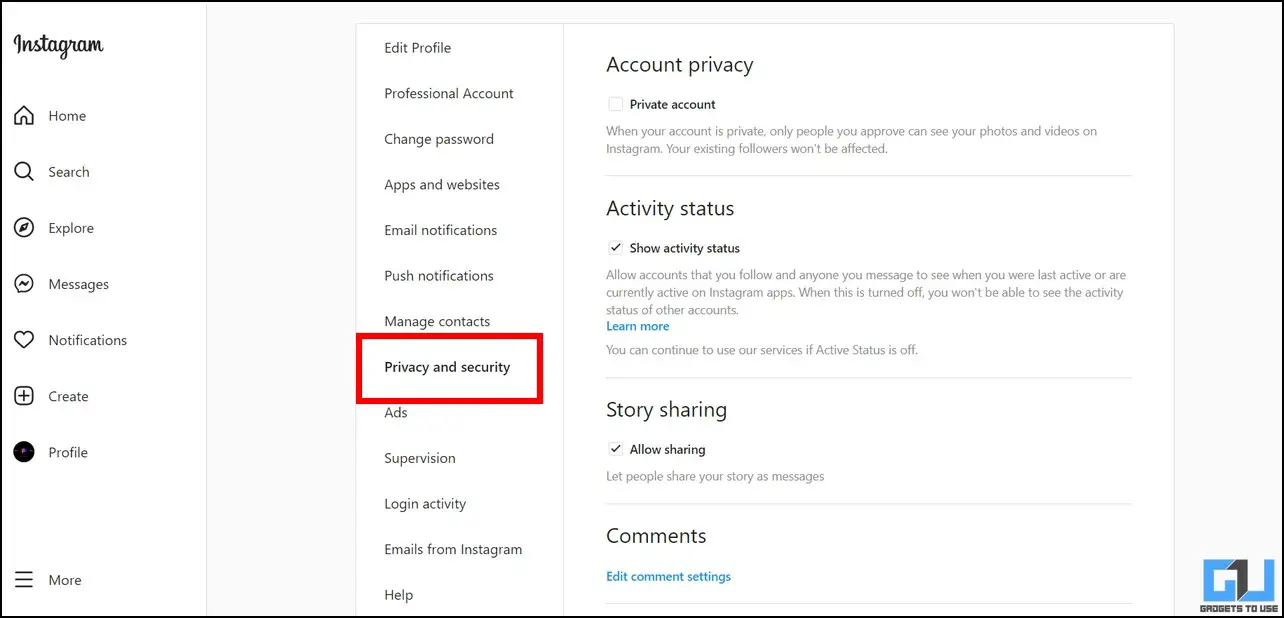 4. Scroll Down to locate the Data Download section and click on Request Download.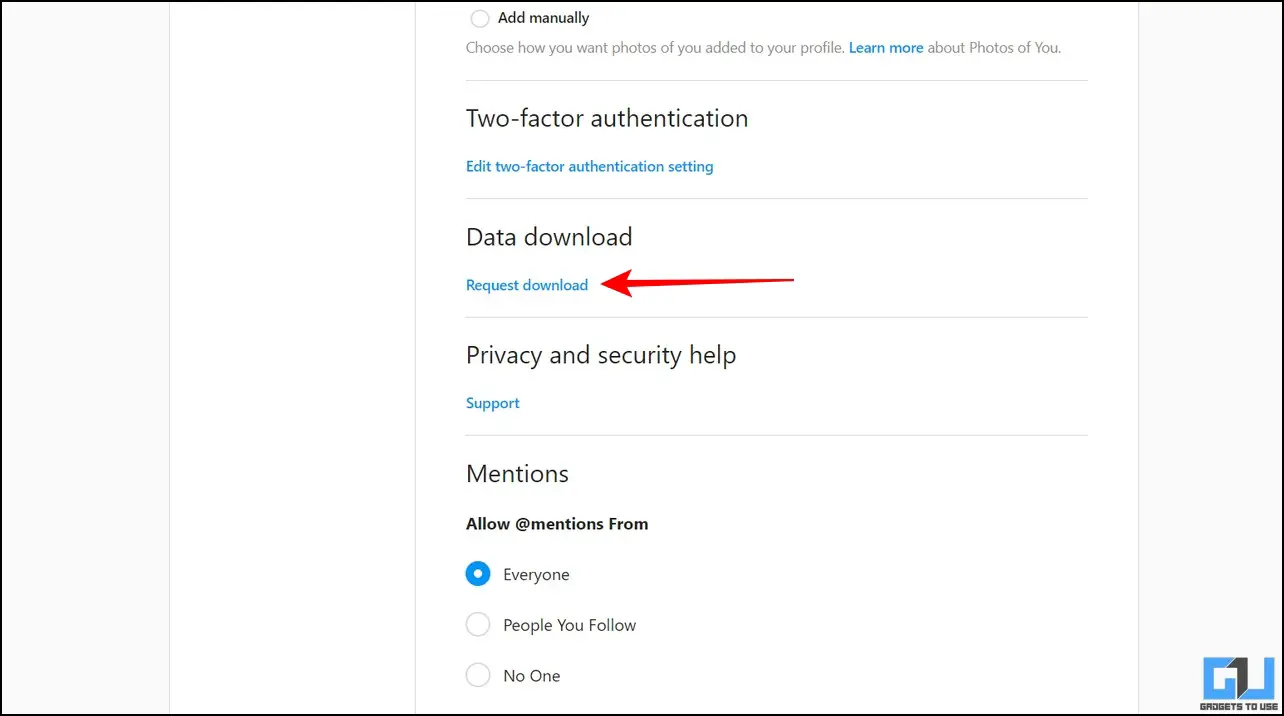 5. Provide your email address and account password to authenticate and receive the file at your mail address.
6. Depending on the amount of your account's content, this email containing the download link can take up to 14 Days to arrive in your provided mailbox.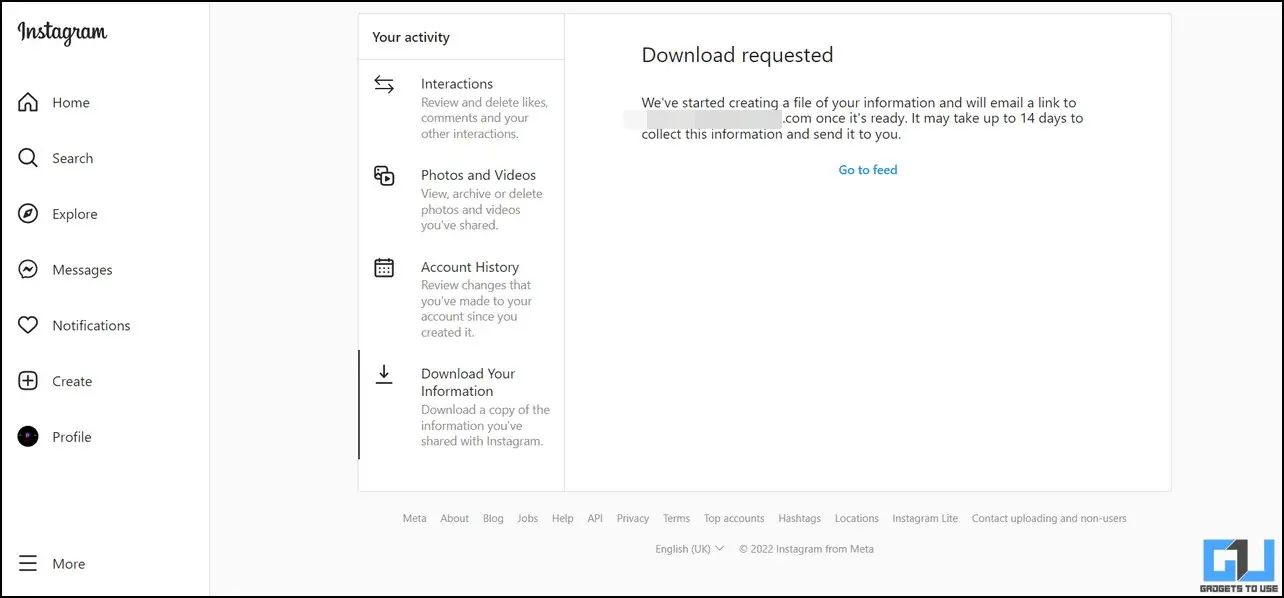 7. Download the zip file received via mail using the Download Information link and extract it to a folder on your system.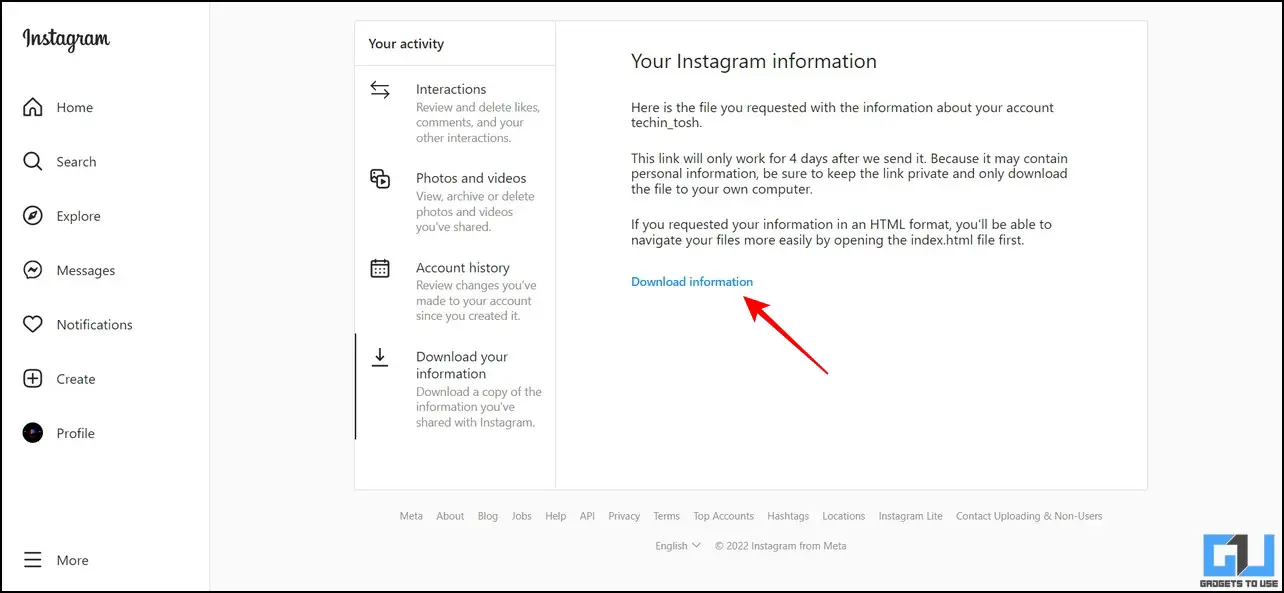 8. Open the extracted folder and navigate to Content.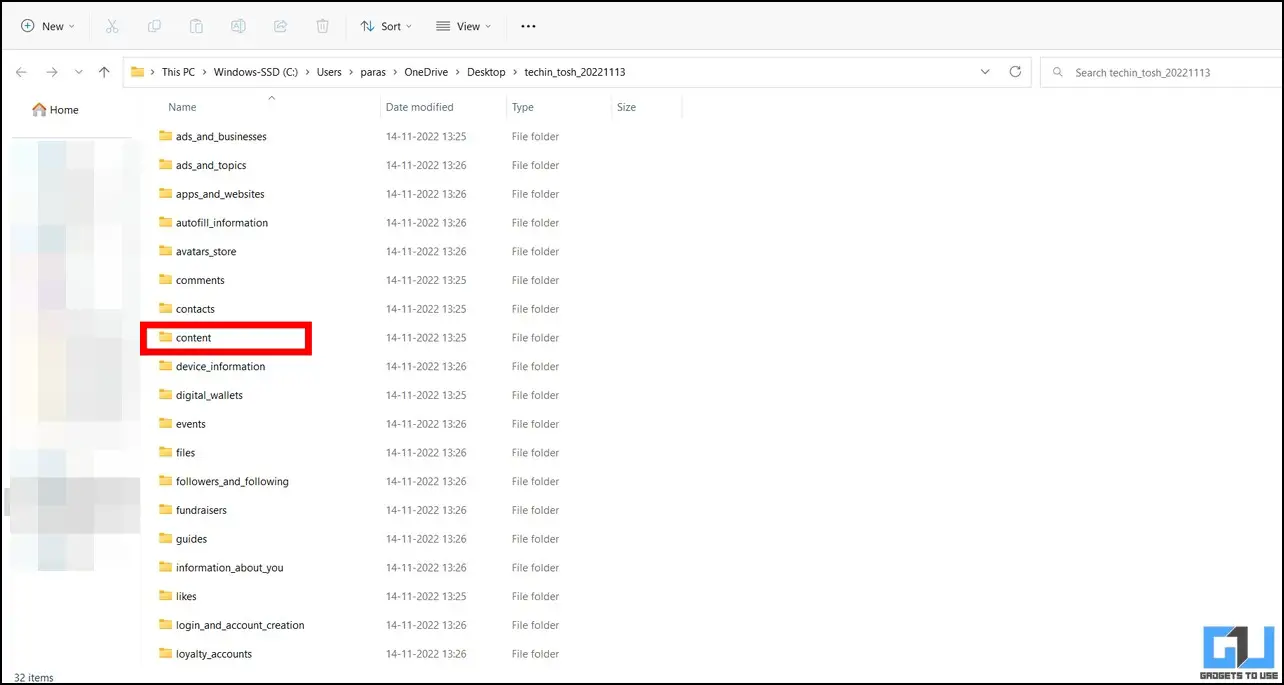 9. Here, locate the reels.html file and double-click on it to view all your Instagram reel watch history. If you can't find the reels.html file, you can explore the Instagram_videos.html file to view the same.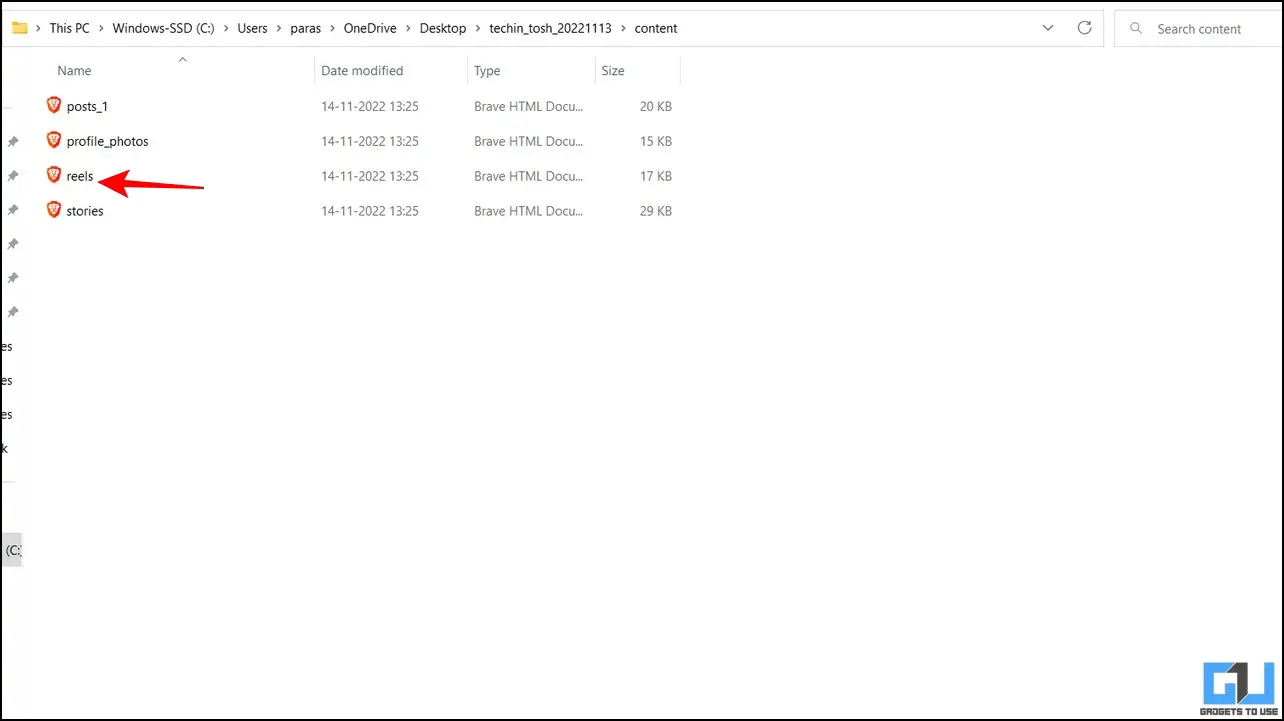 10. Scroll down the list to locate the Instagram Reel you wish to rewatch.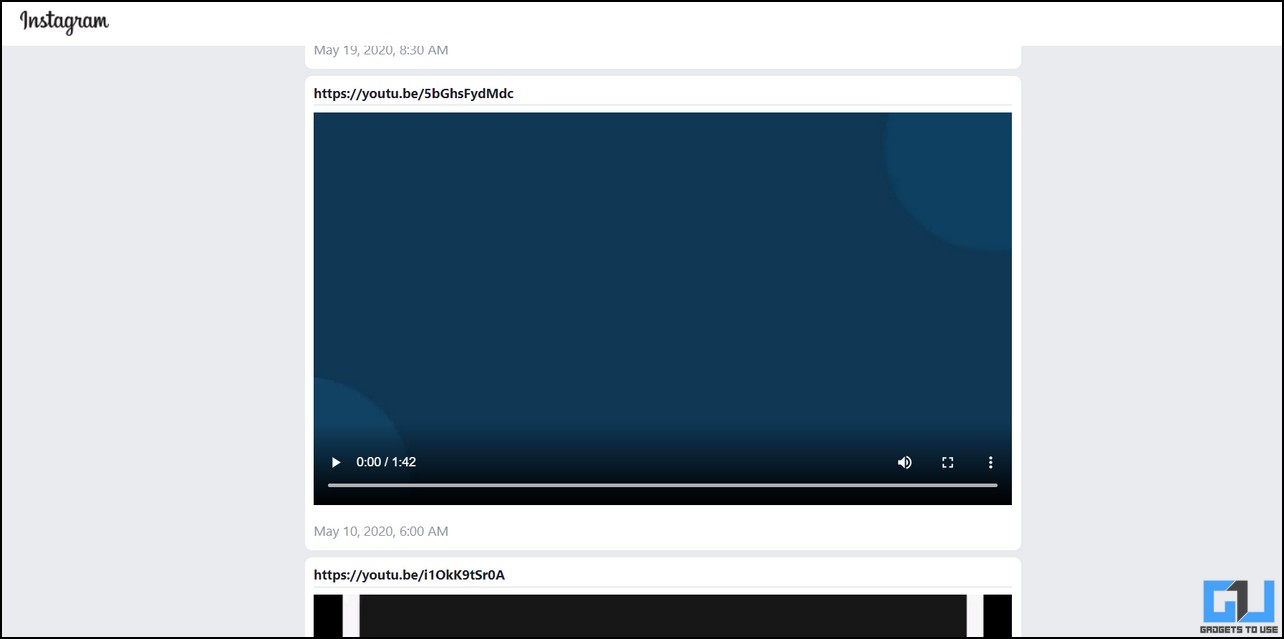 Search Instagram Reels on Facebook
In case you can't find the desired reel you wish to rewatch, you can search for reels on Instagram using Facebook. Content creators often upload their video reels on both platforms to increase their audience and reach. You can use this to your advantage by browsing popular reels using the Facebook Search tab. Here's how:
1. Open the Facebook app and search for the creator's name/page in the search bar.
2. Browse through the page to find the desired reel to rewatch it.
Google the Viral Instagram Reel to Rewatch It
If you remember the content creator whose reel you wish to rewatch, you can google its name with the reel keyword to find relevant results. In a jiffy, you will instantly come across the most popular reel from the searched creator.
Bonus: Check Instagram Reels Insights
If you are a creator and wish to know about the performance of your uploaded Instagram Reel, you can achieve it with the help of the check Instagram Reels Insights tool to know Plays, Account Reaches, and more.
FAQs
Q: How to see the reels you viewed on Instagram?
A: Refer to the methods listed in this explainer to see the reels you've viewed on Instagram.
Q: Can you check reels watch history on the Instagram app?
A: Yes, you can either access the Saved tab or view App Interactions to view the reels' watch history.
Q: How to download an Instagram Reel?
A: Check out our detailed explainer to download Instagram Reel Video with Sound for Free.
Wrapping Up: Relive your Favorite Reels
In this article, we have discussed the five ways to check Instagram Reels history and re-watch them using your Instagram app. If this article has helped you with the same, then share it with your friends who might be curious to relive their favorite Instagram reel. Stay subscribed to GadgetsToUse, and check the links below for more interesting guides.
You might be interested in the following:
You can also follow us for instant tech news at Google News or for tips and tricks, smartphones & gadgets reviews, join GadgetsToUse Telegram Groupor for the latest review videos subscribe GadgetsToUse Youtube Channel.