Like most other social media platforms, Facebook shows read receipts to let the senders know you've read the message. This could be annoying for people who want to read Facebook messages secretly to reply at their comfort. Thankfully, you can easily hide read receipts in Facebook Messenger with some simple tricks. Here are four working ways to read Facebook messages without being seen by the sender.
Related | 4 Ways to Read Instagram Direct Messages without Being Seen
Read Facebook Messenger Messages without Being Seen
Facebook does not offer a dedicated option to disable read receipts. And hence, you'll have to rely on tricks to read Messenger without informing the sender or showing seen status. This includes reading notifications, using Facebook's ignore chat option, and even using third-party tools. Read on.
1. Read Facebook Messages Through Notifications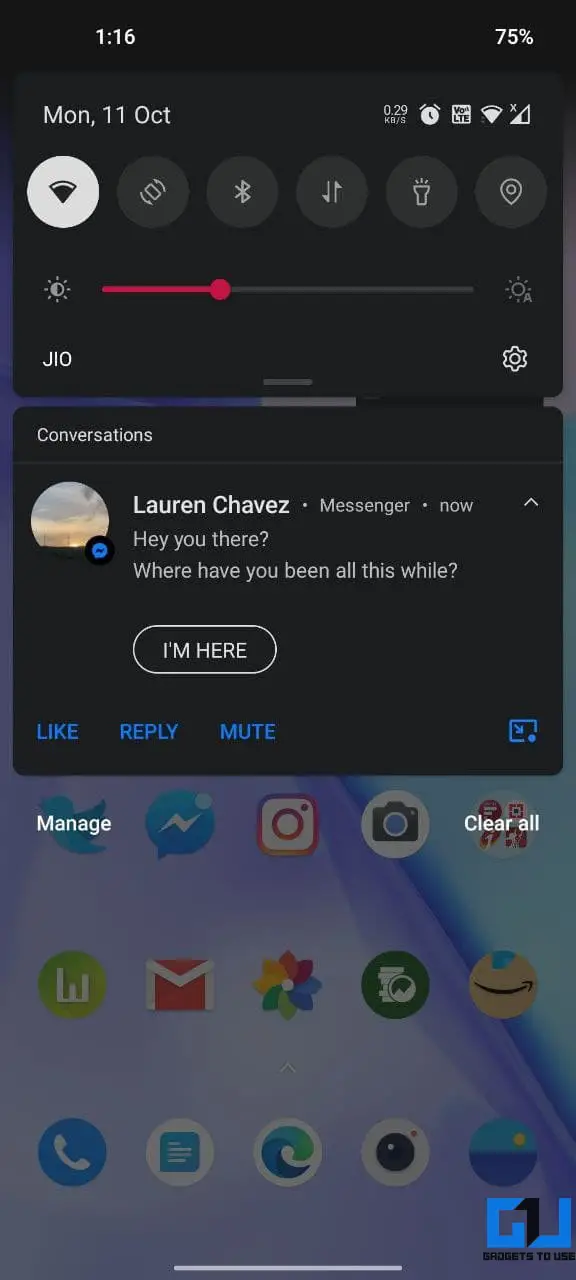 The easiest way to read Facebook messages without letting the sender know is through notifications. When someone messages you, you get a notification with a preview of the message. All you need to do is run an eye over it.
However, it does not show long texts or images, for which we have the other methods below.
2. Read Facebook Messages Without Being Seen By Ignoring Conversation
Facebook Messenger lets you ignore conversations you're not interested in. Once you do so, the chats are moved to message requests, and you no longer get notifications for the messages. Interestingly, you can use this feature to read messages without sending read receipts, as shown below.
On Android
Open Facebook Messenger on your Android phone.
Long-press the chat you want to read without letting the other person know.
Then, click on Ignore messages.
Tap Ignore again to confirm. The message will be moved to the requests section.
Once done, tap your profile picture at the top left.
Click on Message Requests.
Here, switch to the Spam tab.
Open and read the message you've just ignored.
You can now read the chats and see images sent by the other person on Facebook without any worries. They won't be notified of the message getting delivered or seen. The seen status will only appear when you decide to reply to the message.
On iOS
Open Facebook Messenger on your iPhone.
Swipe left on the chat you want to read without being seen.
Click on More > Ignore.
Tap Ignore again to confirm. The chat will be moved to the requests section.
Tap your profile picture at the top-right.
Click on Message Requests.
Select the Spam tab.
Read the message without worrying about the read receipts.
The other party will not be able to see whether you've read the message unless you reply to them. Replying to the chat will automatically move it back to the inbox.
3. Turn Off Facebook Read Receipts by Disabling Internet
One of the common methods to read Facebook messages without marking them as seen is to open them offline. Just disable your mobile data and Wifi (or toggle Airplane mode) and then open Messenger chat to read the message.
However, as soon as you connect to the internet, the message will be marked as read. To avoid it, you can clear the Messenger app's data before going online. This way, the app will never know that you've read the message.
To begin with, disable your internet, open Messenger, and read the message. Then, follow the steps below to clear Messenger data:
While keeping the internet disabled, open Settings on your phone and tap Apps & Notifications.
Click on See all apps and select Messenger from the list.
Tap Storage and cache > Clear Storage.
Confirm when prompted to clear the data.
Now, re-enable the mobile data or Wifi, open Messenger, and login back to your account. It involves a little bit of hassle but gets the job done. Unfortunately, iPhone users will have to uninstall the Messenger app and reinstall it later as there is no option to clear data.
4. Read Facebook Messages Secretly Using Third-Party Extensions
Some third-party Chrome extensions let you read Facebook messages secretly without showing read receipts to the sender. One such extension was Unseen for Facebook Messenger. Unfortunately, it does not seem to be working now.
However, there's an alternative extension called Social Tools, which you can try on your PC. The extension blocks delivery receipts for Facebook, Instagram, and other sites. That said, it is very experimental and may stop working anytime.
Steps to Block Seen Receipts in Facebook using Chrome Extension:

Head to the extension page and tap Add to Chrome.
After it's installed, tap the extension icon in the toolbar.
Once the page loads, enable the toggle for Block sending "Seen" to others under both Facebook and Messenger.
Now, open Facebook in Chrome and read the messages you want without marking them as seen.
The extension page will show you the unseen count to check how many read receipts it has blocked to date. However, make sure to do a trial run before relying on it blindly.
Besides Chrome, you can also use extensions on other Chromium-based browsers like Microsoft Edge and Brave.
Related | How to Install Chrome Extensions on Android
Wrapping Up- Hiding Read Receipts on Facebook
These were handy ways to read Facebook Messenger messages without being seen or letting the sender know on phone and PC. I hope you can now read messages without worrying about responding on time. If you have something else to recommend, do let me know in the comments below. Stay tuned for more.
You can also follow us for instant tech news at Google News or for tips and tricks, smartphones & gadgets reviews, join GadgetsToUse Telegram Group or for the latest review videos subscribe GadgetsToUse Youtube Channel.