The Nothing Phone (1) has truly 'lit' the current smartphone design standard with the Glyph Interface shining at its back. Boasting an array of over 900 LEDs, the glyph interface isn't just limited to ringtones anymore. With the newly discovered hidden feature, you can now enable music visualization on the Phone (1) to 'light' each beat of your favorite song. So, without further delay, let's look at how you can enable the same in this explainer. You can also check out our detailed Nothing Phone (1) review before you decide to buy it.
What does the Music Visualization Feature work?
Once you've enabled this hidden feature, the glyph interface on your Phone (1) will light with any music or sound you play on your Nothing Telephone (1). In simple words, the LED lights at the back of your phone will blink for all kinds of audio playback including music, WhatsApp status, Instagram reels, games, and whatnot. The possibilities are truly endless.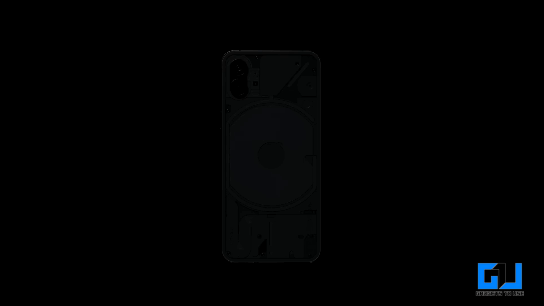 Steps to Enable Music Visualization on Nothing Phone (1)
To unlock the hidden music visualization feature on the Nothing Phone (1), follow these easy steps:
1. Go to the Contacts app on your Nothing Phone (1).
2. Next, tap on the + icon at the bottom right corner to add a new contact and name it 'Abra' (Gotch for Pokémon Fans).
3. You can choose to enter any random phone number and press the Save button.
4. Now, navigate to the Glyph Interface option from the Settings app and tap on Ringtones.
5. Tap on Add a Contact button and choose the Abra contact you created earlier.
6. Next, assign any ringtone to this chosen contact and press the Save button.
7. You can now see a new option named Music Visualization under the Glyph Interface Settings, on your Nothing Phone.
8. Finally, enable the toggle for the Music Visualization feature. Once enabled, the Glyph Interface lights up in sync with the audio beats of the music being played on your device, it may not sync perfectly though, but works well.
9. You can also use the same toggle to disable this feature once you've had your fill with it.
FAQs
Q: Will the Glyph Music Visualizer get Disabled if you delete the 'Abra' Contact?
A: Nodeleting the Abra contact will not disable the Music Visualization feature on Nothing Phone. We have tested it on our Phone (1) and it works fine even after deleting the contact.
Q: Is the Music Visualization feature on Nothing Phone only limited to playing songs?
A: No, once this feature is enabled, the Glyph interface will light up to any audio playback including songs, WhatsApp status, Instagram reels, and even the sound playing on your phone while playing games. In other words, the lights at the back of your phone will become sensitive to any kind of audio played on your phone.
Q: The Glyph Interface lights up unevenly when playing music. Why?
A: This is because the interface is originally designed for specific ringtones and not for every music in general. Therefore, you might experience some 'out of sync' light blinks while playing your favorite song.
Wrapping Up: Light Up Your Playlist with Glyphs
So this is how you can enable the hidden music visualization feature on your Nothing Phone(1), can make the most out of those cool 900 LEDs at the back. I hope you found this useful; if you did, then hit the like button and share it for 'Nothing'. Check out more other useful tips linked below, and stay subscribed to GadgetsToUse for more interesting tips and tricks.
You might be interested in:
You can also follow us for instant tech news at Google News or for tips and tricks, smartphones & gadgets reviews, join GadgetsToUse Telegram Group or for the latest review videos subscribe GadgetsToUse Youtube Channel.