Just like other popular social media platforms, Twitter is also filled with spam and annoying replies under posts. No, matter how hard you try to avoid them, they will still make their way to your tweet. So today in this article, we will discuss how to block spam replies under your Tweet. Meanwhile, you can also read how to check and remove shadowban on Twitter.
How to Block Spam Replies on Twitter?
Spam and annoying replies can get on your nerves, also they usually carry links to crypto scams or other fishy websites. So without any further adieu, let's discuss the four ways to block spam replies under your Tweet.
Mute Words on PC
Twitter offers the ability to mute words, which blocks any new notifications for Tweets that contain the muted words and you will not be able to see Tweets carrying those words in your timeline if you choose to. Here's how you enable it:
1. Go to the Twitter website on your PC.
2. Click on the More options from the left side.
3. Now, from the pop-up menu select Settings and Privacy.
4. On the next page, switch to the Privacy and Safety tab.
5. Here, you need to go to the Mute and Block option.
6. Go to Muted Words on the next screen.
7. Click on the + icon at the top.
8. Now, simply enter the word, phrase, username, or hashtag you want to be silent.
9. You also choose the duration you want to mute the said word, and check the box for Home timeline.
8. Finally, click on the Save button to confirm.
Mute Words on Mobile
Similar to the Twitter web, and can mute words, accounts, phrases, or even hashtags from the Twitter App, to block spam replies on your Tweet. Follow these steps to do so:
1. Open the Twitter appand tap on your profile icon at the top.
2. Go to Settings and Privacy from the menu.
3. Now, everything Privacy and Safety on the next screen.
4. Under Security, tap on Muted Words.
5. Now, click on the + icon at the bottom right corner, and enter the words you want to mute.
6. You can also set the mute duration and other settings.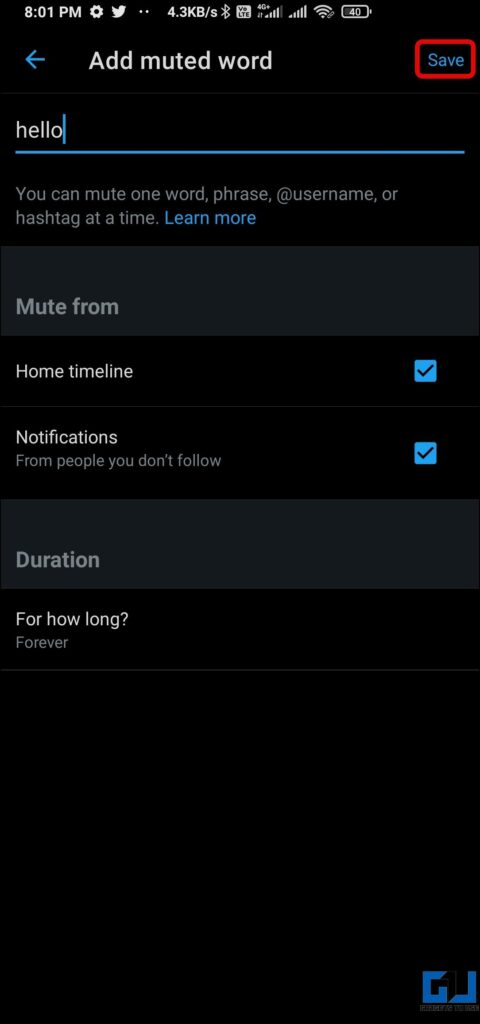 7. Finally, click on the Save button to confirm.
Block the Person to Stop Spam Replies
If a particular Twitter user is spamming you by replying to your Tweets, you can simply block that person, this will also block spam replies on your Tweet. Below are the steps to do so.
1. Go to the reply of that user, and click on three dots at the top of their reply.
2. Choose Block @user from the pop-up menu.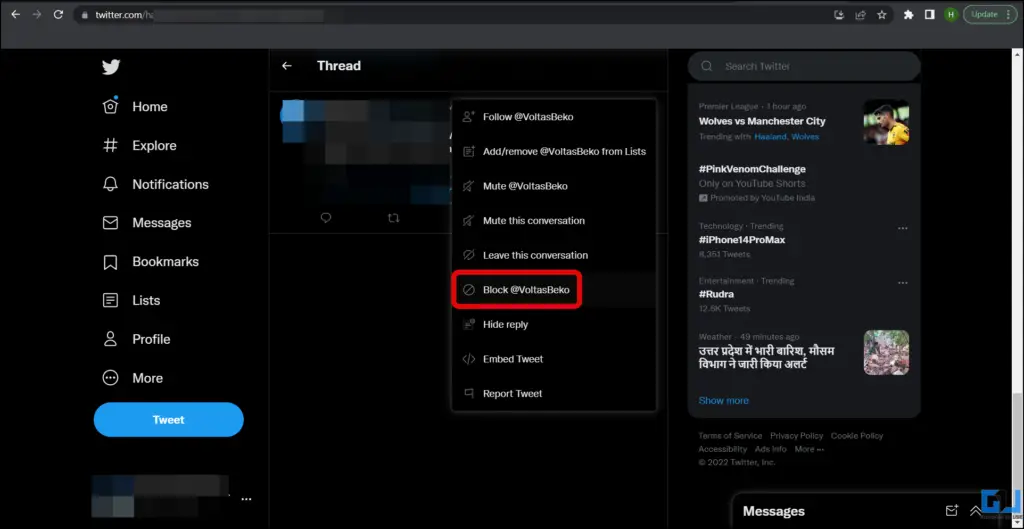 3. Finally, tap on Block to confirm it.
Set Reply Restriction on your Tweets
You can also restrict unknown people from replying to your Tweets by using Twitter's Limit Reply feature to prevent replies from a broader audience. Follow these steps to enable it.
1. While creating a Tweet, tap on the Everyone can reply option.
2. On the next screen, under Who can reply?choose either 'People you follow' or 'Only People You Mention' to limit replies on the said Tweet.
3. Finally, click on the Send button to post the Tweet.
4. Now, based on your selection, only a limited set of people will be able to reply to your Tweet.
Bonus: Share Tweets with Close Friends Only
Twitter has introduced a new feature called Twitter Circle that allows you to share a tweet with only a close group of people. You can use it to share your Tweets with less number of people of your choice, helping you block spam replies on Twitter. You can read our dedicated guide on Twitter Circle.
Wrapping Up: Block Spam Replies On Your Tweet on Twitter
In this read, we discussed five ways you can avoid or block spam replies on your Twitter. I hope you found this article helpful; if you did, make sure to like and share it with your friends and family. Check out other tips linked below, and stay tuned for more such amazing tech tips and tricks.
You might be interested in:
You can also follow us for instant tech news at Google News or for tips and tricks, smartphones & gadgets reviews, join GadgetsToUse Telegram Group or for the latest review videos subscribe GadgetsToUse YouTube Channel.