Google Street View has finally 'made its way' to India after years of rejections and bans. Complying with the new National Geospatial Policy 2021, Google has partnered with Tech Mahindra and Genesys International to launch the new 'Street View' service for Google Maps in India. Let's look at how to use and access Street View on your smartphone across various Indian cities. Additionally, you can learn to find elevated roads in Google Maps.
What is Google Street View?
Google Street View provides interactive 360-degree panoramas to help you explore a location of interest, such as a landmark, monument, or any renowned location. In addition, you can even get live view directions, an interactive AR-based navigation placed in the real world by 'walking virtually' inside a map. This service is free across platforms, including Android, iOS, and the Web covering over 100 countries.
With its official reboot in India, Google aims to cover over 50 cities by the end of 2022, starting its rollout today in 10 different Indian cities, namely Bengaluru, Chennai, Delhi, Mumbai, Hyderabad, Pune, Nashik, Vadodra, Ahmednagar, and Amritsar.
How does Google Street View work in India?
After years of bans and rejections due to security restrictions, Google has finally brought Street View back to India by licensing data from local partners covering over 1,50,000 kilometers of geographical area. Hence, they have partnered with TechMahindra and Genesys International to avoid owning the data itself.
As a result, all the imagery data will be managed by these two partners. However, all the user data collected from Street View shall remain solely under Google's jurisdiction. Additionally, Google's new partnership with the Central Pollution Control Board and local traffic police will provide air and traffic details, respectively.
How to Use Google Street View in India
If your city falls under the covered Google Street View service list, you can follow these two methods to access and explore your desired location using it.
Google Street View of a Specific Location
1. Open the Google Maps app and search for your desired location in the search bar.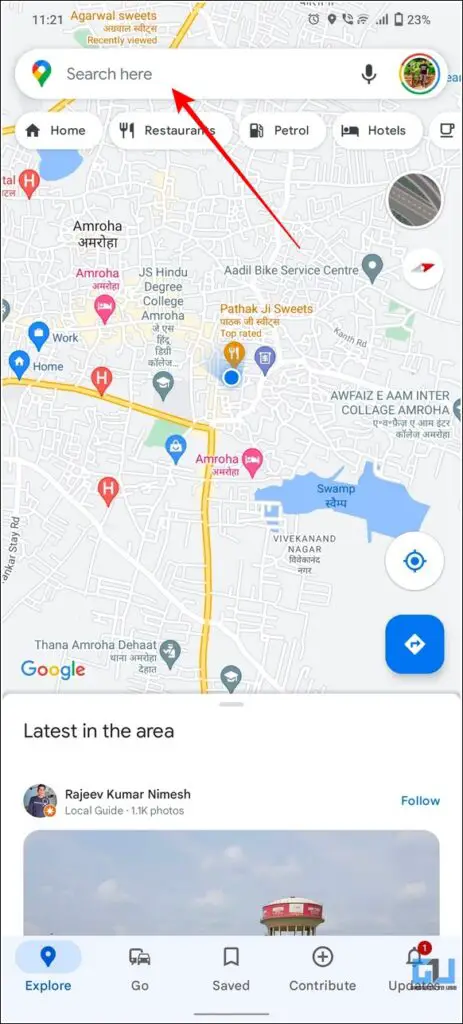 2. Next, tap on the Map type icon in the top-right corner and press the Street View toggle to enable it.
3. Zoom in on your location and tap on the blue circle to enable the street view for the chosen location.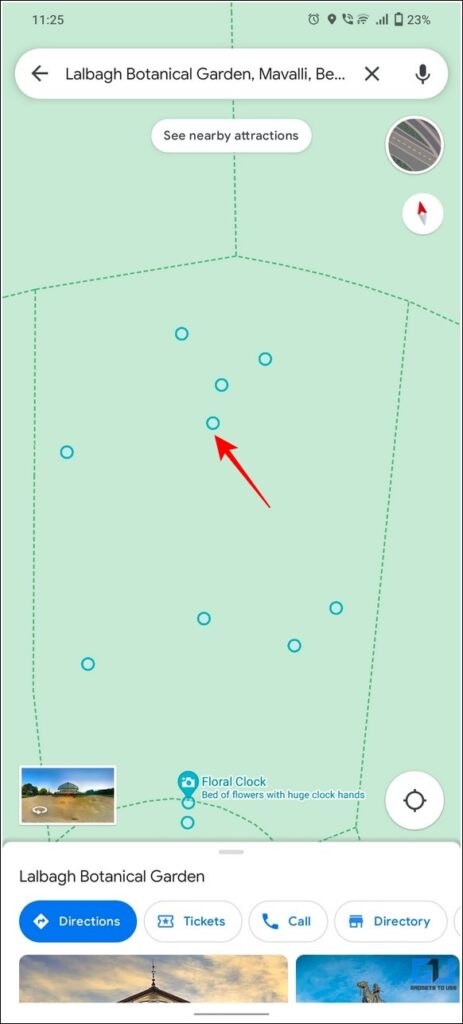 4. You can also interact with the 3D panoramic view to navigate further into the map.
5. Similarly, you can explore nearby places, cafes, and real-world directions through this street view service.
6. Additionally, you can assess the Air Quality at the searched location by tapping on the Air Quality option under Map Details.
All Google Street View Available
Since the street view is relatively new to India, finding a street view in the first go will be difficult because of the scarcity of street view data. As an alternative, you can look for all the street views available as follows:
1. Open the Google Maps app and search for the term Street View in the search bar.
2. You will be presented with a list of places with a Street View.
3. Choose the place you want to see the street view from the list.
4. Go to the photos tab, and click on Street View 360°, to explore the street of that place while sitting at your place.
Bonus Tip: Browse a 3D Map of your City with Mappls
Besides Google Street View, MapmyIndia offers tough competition to Google Maps with their Mappls app. Using this app, you can conveniently browse through a three-dimensional map of any city along with real-time geo-demographic data. Here's how you can use this app to explore and know the whereabouts of any location:
1. Install the Mappls app on your smartphone from Google Play Store or Apple App Store.
2. Enter your desired location in the search bar and tap on it Layers button.
3. Enable the 3D View toggle to view a 3-dimensional map of your chosen location.
4. Additionally, you can tap on Reports/Events to view more associated options.
5. Here, you can turn on real-time geo-demographic data such as traffic, safety, pollution, etc.
That's it! You can now view a three-dimensional view of your desired location with different parameters.
FAQs
Q: How can I access Google Street View Maps on my smartphone?
A: To access the Google Street View of your desired location, tap on the Layers button and press the Street View option to enable it. You can also interact with the navigation arrows to 'walk virtually' inside the map. Alternatively, you can install the Street View app from Google Play Store or App Store to achieve similar results.
Q: Why can't I see Google Street View of my City?
A: Google Street View is currently available in 10 cities, namely, Bengaluru, Chennai, Delhi, Mumbai, Hyderabad, Pune, Nashik, Vadodra, Ahmednagar, and Amritsar. Google also plans to expand this service across 50 cities in India by the end of 2022.
Wrapping Up
We hope you've learned to access and utilize Google's new Street View feature through this explainer. If you find this reading helpful, share it with your friends to help them explore their surroundings with Google Maps. Also, subscribe to GadgetsToUse for more informative guides and tips.
You might be interested in:
You can also follow us for instant tech news at Google News or for tips and tricks, smartphones & gadgets reviews, join GadgetsToUse Telegram Group or for the latest review videos subscribe GadgetsToUse YouTube Channel.