Ever since WhatsApp has come under the Meta Umbrella (previously Facebook), the platform has been trying to become more than just a personal chatting platform. We saw some new changes in the platform in terms of new features, sending disappearing messages, hide last seen from specific contacts, etc., now even we get updates from some businesses. Now, WhatsApp is taking it to the next level, by allowing us to search the business profiles on WhatsApp from our end, so we can get better support, and get the information we are seeking for without needing to wait in the queue of the customer support . Let's see how you can search a business profile on WhatsApp.
How to Search A WhatsApp Business Profile on Mobile
WhatsApp has been testing a way to search for profiles operated by well known business organizations or even local businesses like your nearby coffee shop, florist, clothing store, etc.. So as to make the process more seamless. This can solve the most common problem of waiting for your turn to get in touch with the customer support executive. Let's have a look as how you can search a WhatsApp Business Profile.
WhatsApp Business Directory
The easiest way to search for a business account on WhatsApp is via the WhatsApp Business directory. It sounds and works like the old telephone directory of your area, which we used to have a home. You can search any business profile on WhatsApp as follows:
1. Launch WhatsApp on your phone.
2. Tap the new chat button from the bottom.
3. Here you will see a new category, named "Find businesses", under this category tap on More.
4. Now, in order to find businesses, you need to set the location:
You can either share your current location, either only while using the app or just once, or
You can choose the "Not Now" option, and manually select the region from the list.
5. After the location is set, tap on new chat again, and you can search for the business you are looking for. Alternatively, you can use the sub categories, to filter the search results.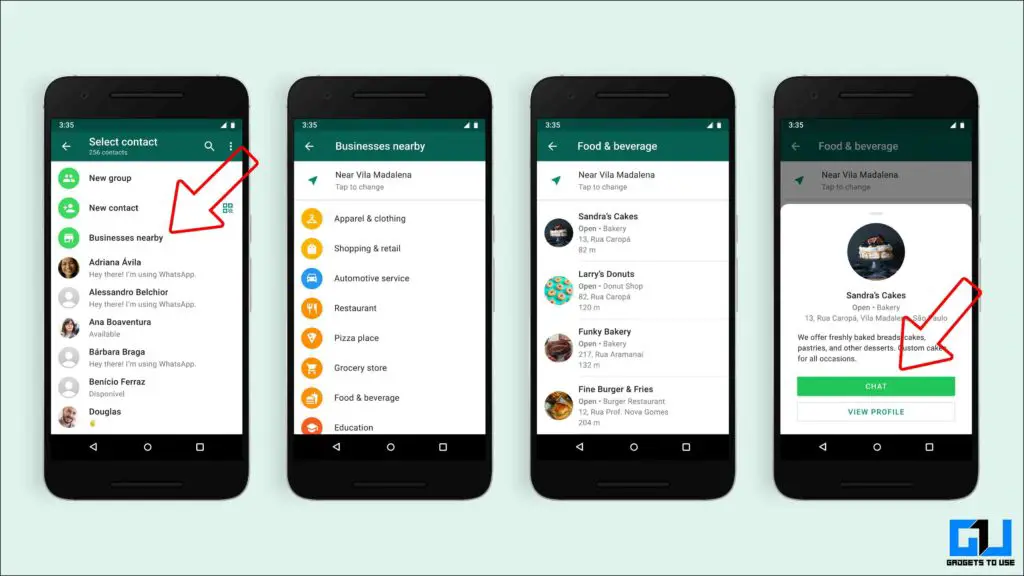 6. You can remove any irrelevant search result by tapping on the cross next to it.
7. Once you find the business you were looking for, tap on it to start the chat.
Note: As of now this feature is currently only available in São Paulo (Brazil), and will be rolled out globally soon.
Search Via Web
Another way to search for the WhatsApp number of any business is via the web search. You can easily find the WhatsApp number of the most well-known business, for example your nearby outlet of a coffee chain, hospital, multiplex, or even your bank. For example the screenshots attached. You can start chatting with the business profile, without even saving the number to the phone, for this check out our guide to chat on WhatsApp without saving number.
How to Register Your Business on WhatsApp Business Directory
Getting your business added to the business directory increases the visibility of your business. The more information you list about your business, the easier it is for potential customers to find you and get in touch with you. If you are wanting to get your business registered on WhatsApp Business Directory, then you need to make sure you fall in the eligibility criteria and follow these steps:
Requirement & Eligibility to Register Your Business on WhatsApp Business Directory
Download the latest version of WhatsApp Business on your phone (It is currently available only on the Android version of the Business App, iOS support will come soon)
Currently only Business from São Paulo (Brazil), can register (It will expand to more regions globally, in the future).
Steps to Register Your Business on WhatsApp Business Directory
Once you meet the eligibility criteria, you need to follow these steps to register your business for WhatsApp Business Directory:
1. Launch WhatsApp Business on your phone.
2. Tap the More options button from top right > Business Tools > Business Directory.
3. Now, you need to review and edit your business profile. You need to fill in your business details mentioned below. If you update any information about your business, then you need to resubmit the application.
4. Press Next, and enter the valid registration number (CNPJ Number in case of São Paulo) of your business. Press Submit.
5. In case any further information is required then you'll be notified, and once your application is approved it will be added to the directory.
Bonus: Withdraw application from the WhatsApp business directory
If you want to withdraw your application, from the WhatsApp Business directory, then it can be done as follows:
1. Launch WhatsApp Business on your phone.
2. Tap the More options button from top right > Business Tools > Business Directory.
3. Now, go to More optionsand select Remove from Directory.
Wrapping Up
So this is how you can search for any WhatsApp Business Profile, if you are located in São Paulo, or anywhere in the world. Any WhatsApp user can look for more similar business profiles, after opening more details about a business from the directory. We also discussed how you can get your business registered in the WhatsApp Business Directory, and withdraw your application if needed. Currently the directory is available only in São Paulo, but will be rolled out globally soon. I hope you found this article useful, if you did, make sure to like and share with those who should know this. Check out more tips linked below, and stay tuned for more such tech tips and tricks.
Also, Read:
You can also follow us for instant tech news at Google News or for tips and tricks, smartphones & gadgets reviews, join GadgetsToUse Telegram Group or for the latest review videos subscribe GadgetsToUse YouTube Channel.