Instagram is among the most popular platforms that are widely targeted by hackers around the globe. If you believe that someone has gained unauthorized access to your Instagram account, then we have researched effective ways to recover it back. In this guide, we have demonstrated 4 ways to get your Instagram account back after being hacked.
Ways to Get Your Instagram Account Back After Being Hacked
Secure Your Instagram Account Using Linked Email
Instagram offers enhanced security to its users by notifying each login attempt from new devices over their linked email. This means that in an event of an unauthorized access attempt on your Instagram account, you will receive an e-mail notifying you about the same. You can use this email to secure and recover your account. Here's how:
1. Check your mailbox for an email from Instagram notifying you of a new login.
2. If you're unsure of the email id used while signing up on Instagram, you can view it by navigating to the Personal Information Section under the account settings.
3. Next, tap on the 'secure your account here'link to recover your compromised account.
4. Provide a new password to your Instagram account and click on the Submit button.
5. After pressing the submit button, you will be instantly logged out of all active sessions except the current one that you're signed into. Hence, anyone having prior access to your Instagram will not be able to access it anymore.
Recover Instagram Account Using a Login Link
If you've been logged out of your current Instagram account after being hacked, then you can recover it by pressing the Forgot Password link.
Here's how you can achieve the same:
1. Click on the Forgot Password link on the Instagram login page.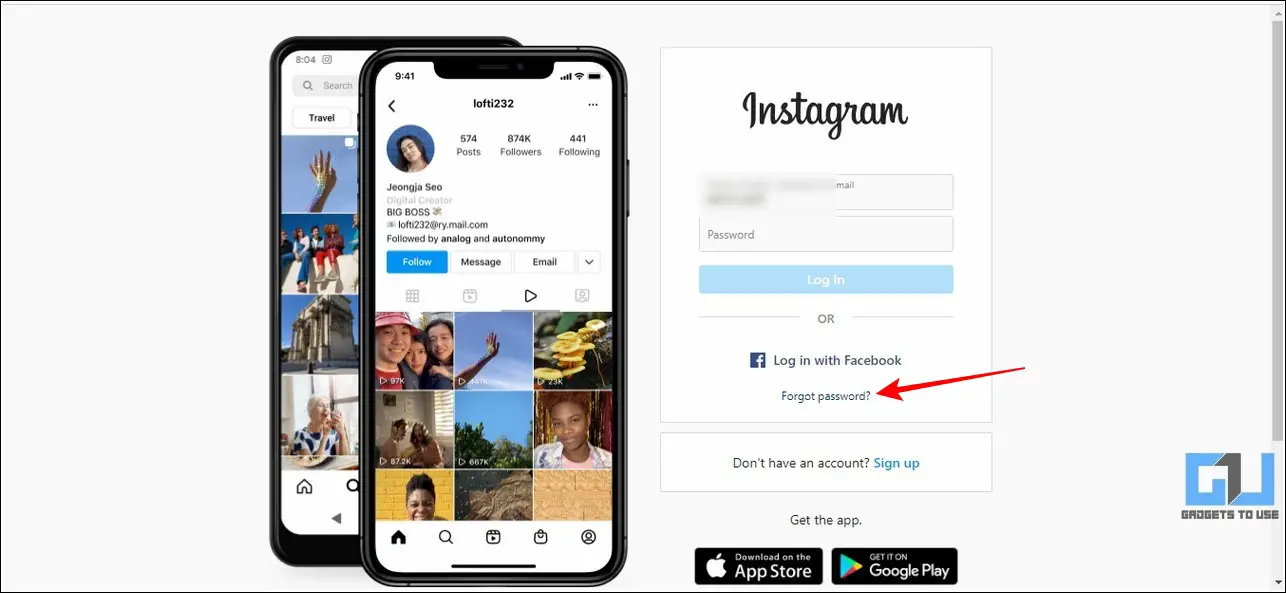 2. Enter your associated email, phone number, or username and click on the Send Login Link button to receive a login email.
3. Complete the captcha verification.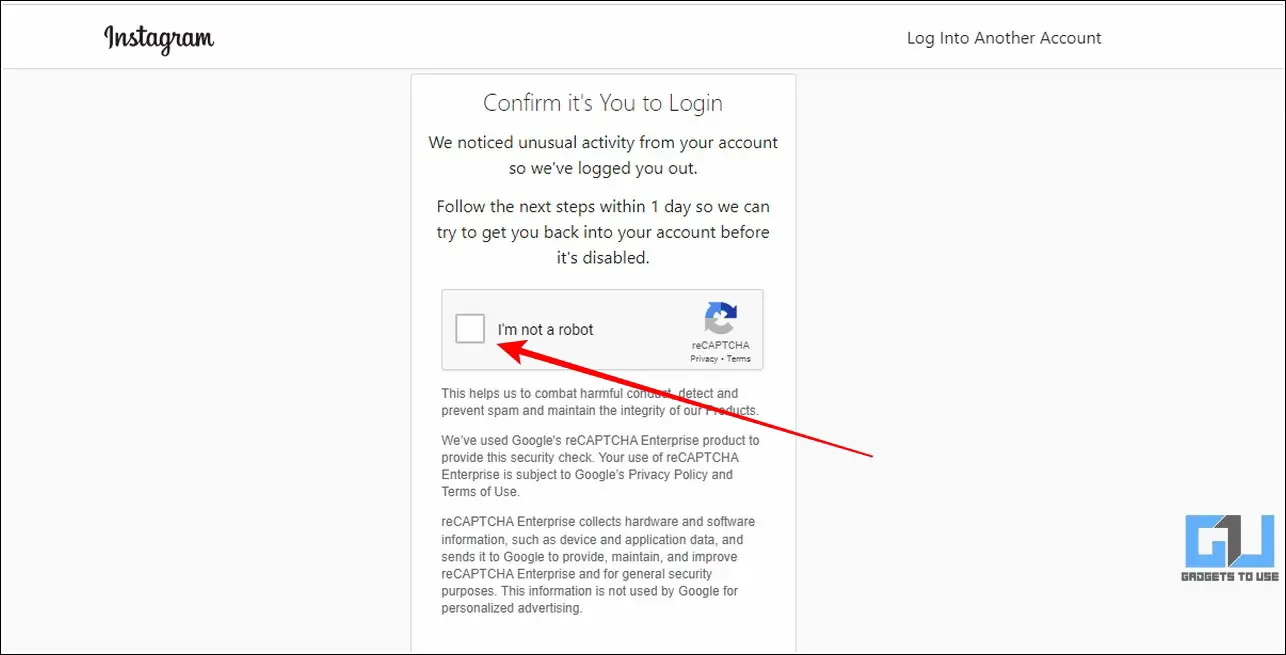 4. A login email will be instantly sent to the email linked with your Instagram account.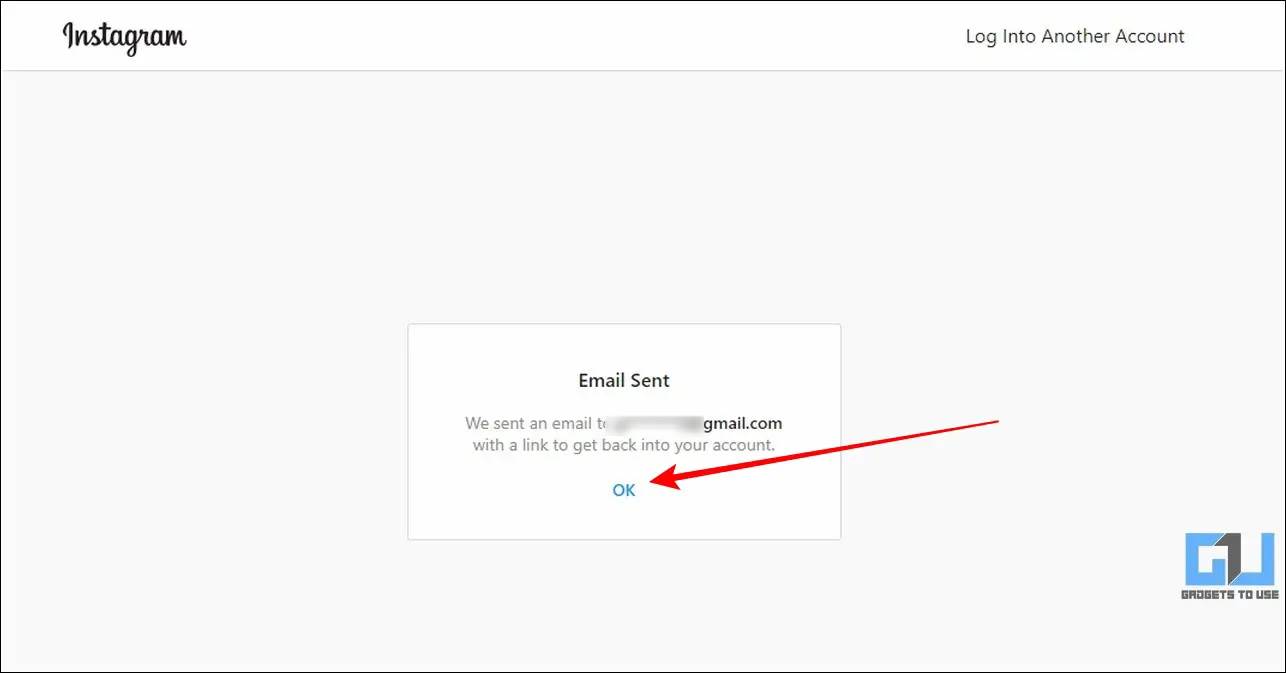 5. Enter your received email from Instagram and tap on the login button to gain access to your account.
6. Alternatively, you can press the Reset your Password button to reset your compromised Instagram account password.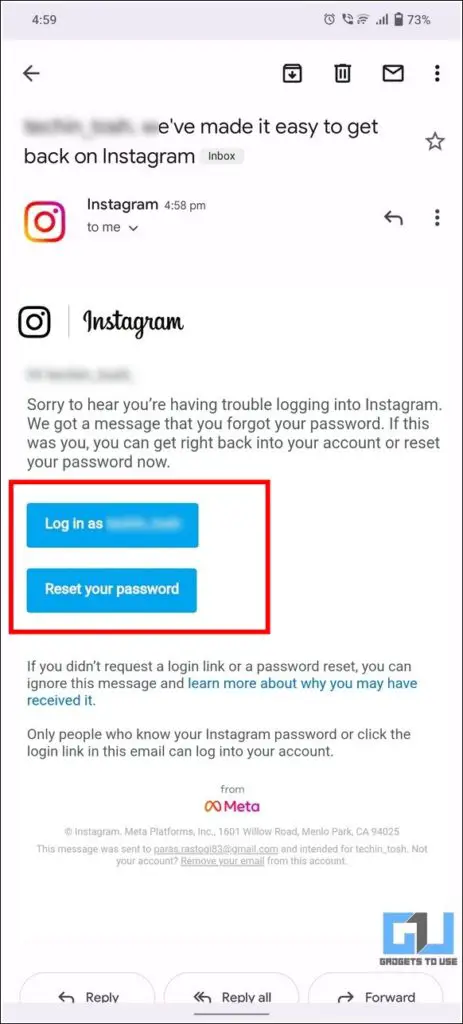 Contact Instagram Team for Account Recovery
If you haven't been successful in recovering your Instagram account after trying the above login methods, then you can raise a request through the Instagram Help Center to help you gain access to your compromised account.
1. Head to the Instagram Help Center and find a report link by narrowing down your search query through the provided categories.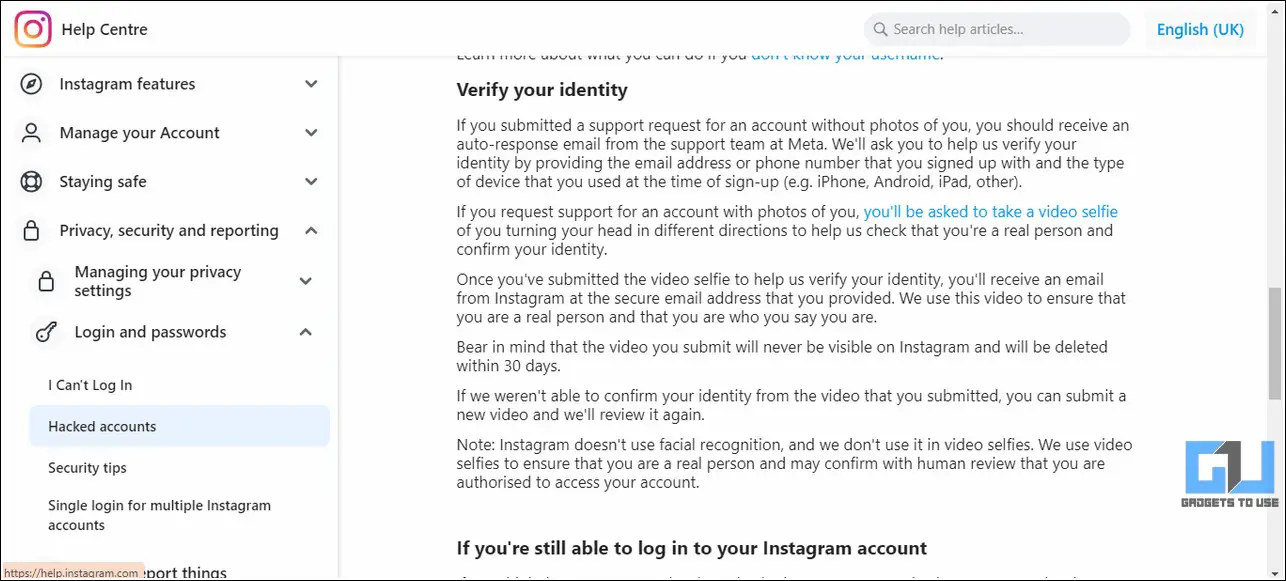 2. Once reported, you will be asked to take a video selfie of your head turning in different directions to verify your identity.
3. Upon successful verification, you will receive an official email from Instagram containing the steps to gain access to your compromised account.
Secure Your Account Using In-App Security Settings
Now that you've learned to recover your Instagram account after being hacked, you must take precautionary measures to avoid such attacks in the future. With that being said, let's look at some important security settings that you should enable to prevent such malicious attacks.
Enable Two-Factor Authentication (2FA)
Two-Factor Authentication is an advanced security feature from Instagram which will ask you for a special login code when someone tries to log into your account using an unrecognized / new device. Here's how you can turn it on:
1. Tap on the three-bar icon in the top-right corner of your Instagram account and press the Settings button.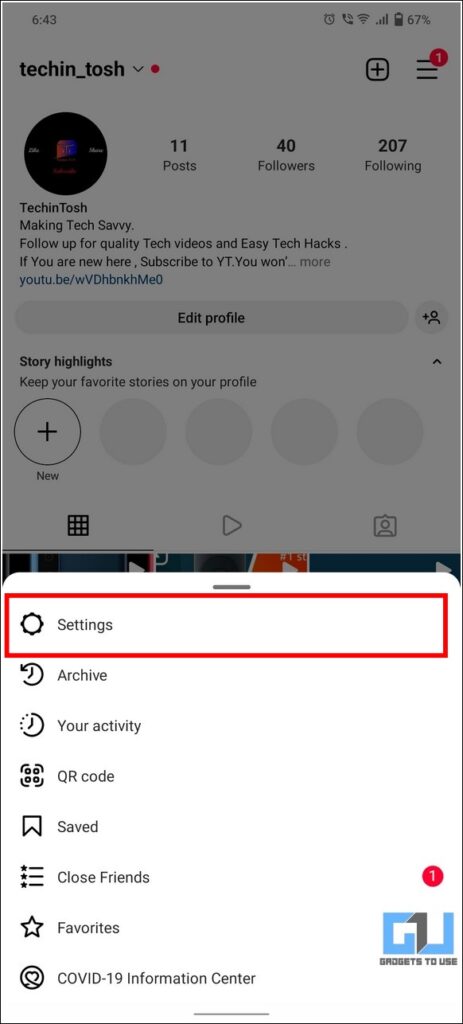 2. Next, tap on security and press Two-Factor authentication to configure it.
3. Tap on the Get Started button and choose your preferred security method for setting up 2FA on Instagram.
4. Instagram provides you the option to use a dedicated authenticator app such as the Google Authenticator app, WhatsApp, or even a Text Message to easily authenticate your identity through the Two-Factor authentication.
5. Follow the on-screen method to successfully set up 2FA on your Instagram account.
Analyze Login Activities
In addition to the 2FA, Instagram provides the in-app option to review all your account login activities. Using this feature, you can easily spot all the devices having access to your Instagram account and choose to log out of the unidentified ones.
1. Tap on Security inside the Instagram app settings.
2. Next, press the Login Activity option.
3. Further, review your active / logged-in devices with their respective locations.
4. To log out of an unidentified device, tap on it and press the Log out button.
Update Your Phone Number and Email
An updated phone number and email on your Instagram account can prove to be a 'godly' blessing when you make an attempt to recover your account in case of a lost / compromised account. Here's how you can update these details to your Instagram account.
1. Open your Instagram app settings by tapping on the three-bar icon at the top-right corner and tap on Account to view more options.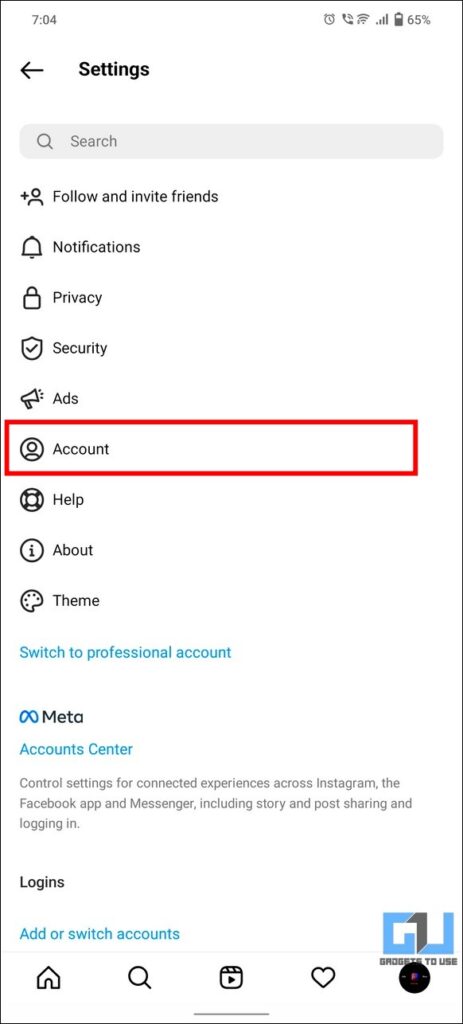 2. Next, press the Personal Information option at the top and enter your desired phone number and email to update it.
Change Your Passwords Frequently
Another good precautionary measure to protect your Instagram account from cyber-attacks and unauthorized access is to routinely change your passwords. This will help you to keep your account secure even if someone gained access to an old password of your account. Here's how you can change it.
1. Open your Instagram app settings and tap on Security to configure it.
2. Next, tap on Password.
3. Enter your current Instagram account password and provide a new password in the required fields.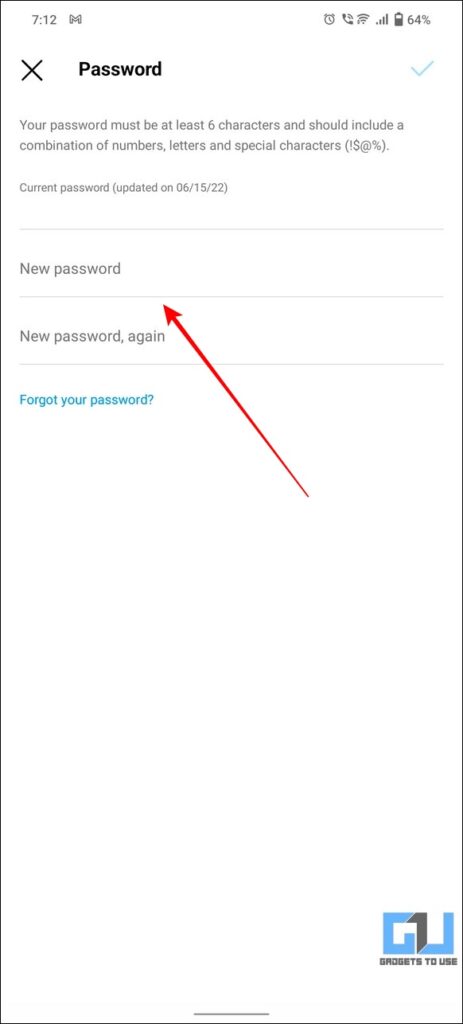 Final Remarks: Get your Compromised Account Back
We hope that this guide has helped you in recovering your compromised Instagram account successfully using the above-listed methods. If you find this guide helpful and worth your time, then share it with your friends who might be clueless in such adverse scenarios. Subscribe to GadgetsToUse for more helpful articles.
Related:
You can also follow us for instant tech news at Google News or for tips and tricks, smartphones & gadgets reviews, join GadgetsToUse Telegram Group or for the latest review videos subscribe GadgetsToUse Youtube Channel.